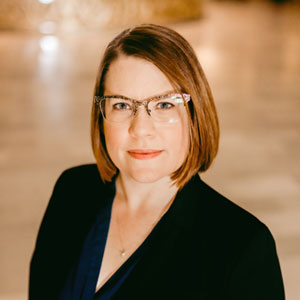 The 2023 edition of the annual Gaddis Memorial Lecture is scheduled for Monday, October 16, with Missouri advocate and attorney Sharon Geuea Jones slated as the featured speaker. Jones's talk is entitled "The Importance of Asking 'Why?'" and will take place at 7 p.m. in the Inman Lecture Hall.
In her work, Jones uses her two decades of nonprofit association experience to advocate for individual rights, government transparency, and corporate accountability. Her experience in policy, politics, and relationship building allow her to connect advocates and organization leaders to key legislative decision-makers. She also has extensive experience managing grassroots and professional organizations.
A 2002 alumna of Central, Jones has written multiple articles for professional publications and is a frequent speaker on advocacy and legal strategy issues. She has been recognized in the Missouri Times 100 People to Know and the Missouri Lawyers Weekly Power List. She currently resides in Columbia, Missouri.  In 2019 she founded the Jones Advocacy Group, which combines non-profit legal support, lobbying, communications, and membership management skills to provide a robust and customizable suite of services to clients. The Jones Advocacy Group's mission is to help make government transparency and accountability a reality by guiding clients through the legislative, judicial, and regulatory systems.
The Merrill E. Gaddis Memorial Lecture is sponsored by the Kappa Chapter of Pi Gamma Mu, international honor society for the social sciences. The lecture, established in 1984, honors the memory of Dr. Merrill Elmer Gaddis (1891-1958) who founded the Kappa Chapter at Central College in 1935 and later served as regional chancellor of the honorary society.
Dr. Gaddis, who earned a doctor of philosophy degree in history from the University of Chicago, joined the Central College faculty in 1929. A renowned lecturer, he was a professor of history and later chair of Central's Department of History and Political Science until his death.
Members of Pi Gamma Mu choose the Gaddis Lecturer from persons suggested by Central Methodist social sciences faculty and other members of the University community, including alumni.
For more on Central's annual lecture series, visit
https://www.centralmethodist.edu/alumni/lectures.html
.