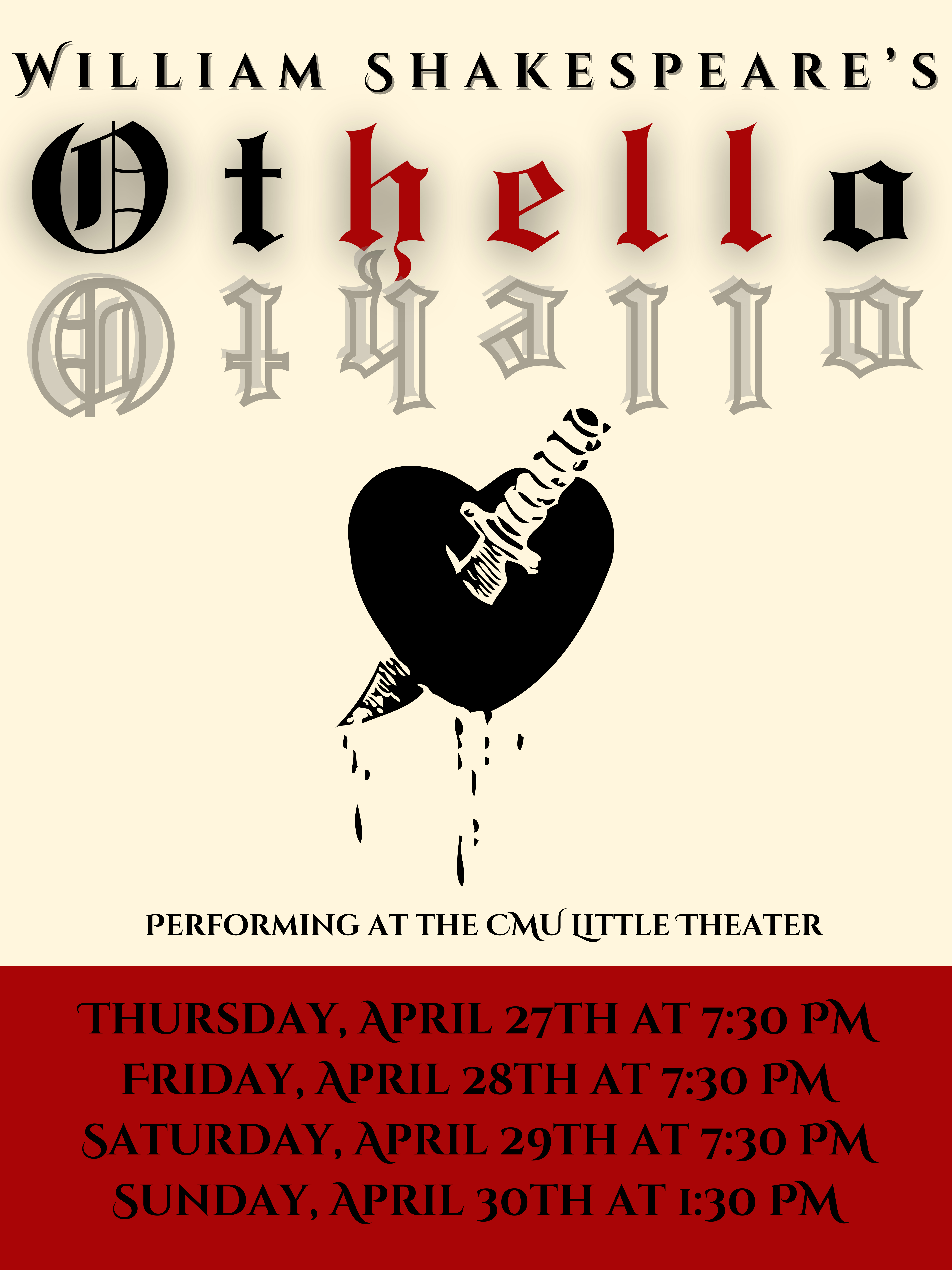 The Little Theatre, on the campus of Central Methodist University, will soon present a unique take on a William Shakespeare classic. Othello, the Moor of Venice will be open from April 27-30, directed by Mark Kelty, professor of theatre.
"This will not be your grandparents' Othello," said Kelty. "We are taking an innovative approach to the classic [story], unwinding the tale from finish to start, reversing the order of events to better examine how they end so violently."
Under Kelty's direction in the titular role will be P. Rob Brown as Othello. They will be joined by Cole Nowlin and Emily Myler, as Iago and Desdemona, respectively. Other members of the cast include Arielle Prince as Emilia, Gram Coalier as Roderigo, Cody Johnston as Cassio, Daniel Ard as Brabantio/Lodovico, Kayla Wainscott as Duchess of Venice, Paul Reinert as Montano/Gratiano, and Lizzy Thomas as Bianca. Mullin Eyberg will serve as the assistant director/stage manager.
Professor Lonna Wilke is heading up the scenic and lighting design, with Kaitlyn Bailey assisting. Terri Rohlfing is the costume designer, while Brandon Riley serves as the fight choreographer.
Other members of the tech crew for the show include Joseph Lass as assistant technical director, Sarah King as dramaturg, Poppy Garner as assistant stage manager/props and sound design/sound board operator. Perrin Dowse, Eric Lotz, Justin Reed, Amanda Schrivener, Cocone Matsuzawa, Elana Dodson, Margarett Powell, Samantha Cox, Cass Harris, and Emily Gann will also have backstage roles.
Students assisting with the sets as part of the stagecraft class include Brooke Adams, Neil Green, Ryan Green, Katie Hendel, Cayley Hollon, Caleb Hurt, Anthony Johnson, Jamal Keyes, Teagan Lovin, Hannah Redding, Zane Rice, Gracie Sadler, Caleb Small, Cyndilyn Trinidad, Kynleigh White, and Shianne Witted.
Curtain for the Thursday through Saturday shows (April 27-29) will be at 7:30 p.m., while the Sunday, April 30 matinee will begin at 1:30 p.m. Tickets will be on sale at the box office at $8 for general admission, $5 for CMU faculty and staff, and free for CMU students with ID. Individual and group reservations can be made at any time by calling 660-248-6281.