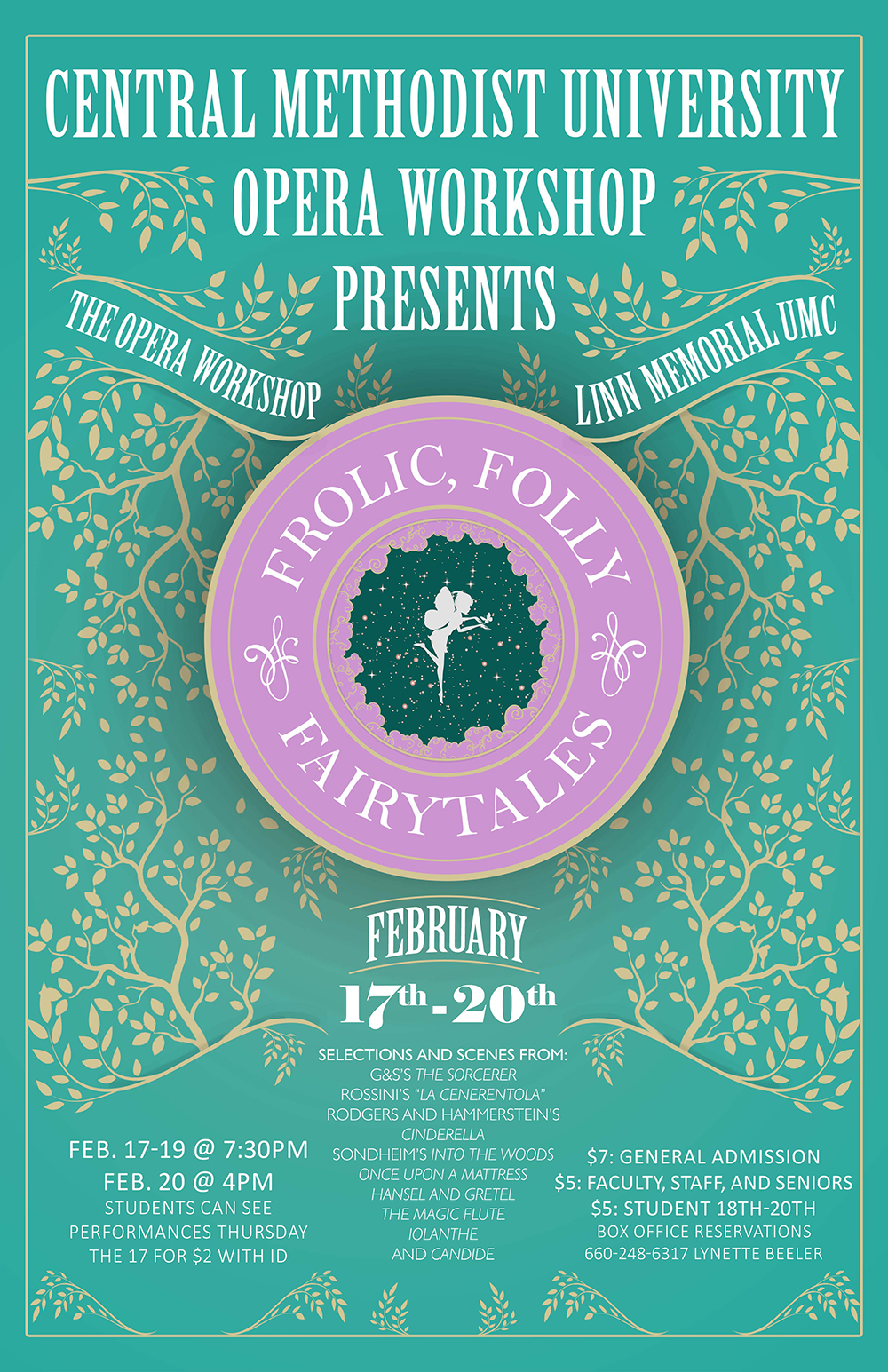 Update: Due to expected inclement weather, the opening night for this show has been pushed back to Friday. The show originally scheduled for Thursday, February 17 is cancelled. Friday's show will begin as scheduled, at 7:30 p.m. in Linn Memorial United Methodist Church.
The Central Methodist University Opera Workshop will present its annual February scene program entitled "Frolic, Folly and Fairy Tale" February 17-20.
Directed by Dr. Susan Quigley-Duggan, the program will be presented in Linn Memorial United Methodist Church and will include opera and musical theatre. Scenes will be drawn from Gilbert and Sullivan's The Sorcerer, Rossini's La Cenerentola, Humperkinck's Hansel and Gretel, and Mozart's The Magic Flute. Other selections include pieces from Bernstein's Candide and Sondheim's Into the Woods, as well as scenes from Cinderella, Once Upon a Mattress, and Iolanthe.
Ensembles and small scenes will be accompanied by Mary Jane Nance as the collaborative pianist. The rest of the backstage crew includes Terri Rohlfing as costume designer, Professor Lonna Wilke as set designer, Bryce Daugherty on lighting, Anna Geurkink as stage manager, Hailey Sage as opera fellow, and Ezechiel Daos as rehearsal pianist.
The cast of 16 singers includes seniors Daos, Sage, Megan Adams, Kennedy Walker, and Kona Asi, juniors Rob Brown, Cole Nowlin, Gracie Hartford, Connor Rich, and Sarah King, sophomores Emily Gann and Dalton Myler, and freshmen Paul Reinert, Arielle Prince, and Cocone Matsuzawa.
Shows will begin at 7:30 p.m. February 17-19 and at 4 p.m. on February 20. Tickets for the show are $7 for general admission, $5 for seniors, staff, and faculty, and $2 for students on Thursday, February 17 (student price other nights is $5). Tickets can be reserved by calling 660-248-6317.