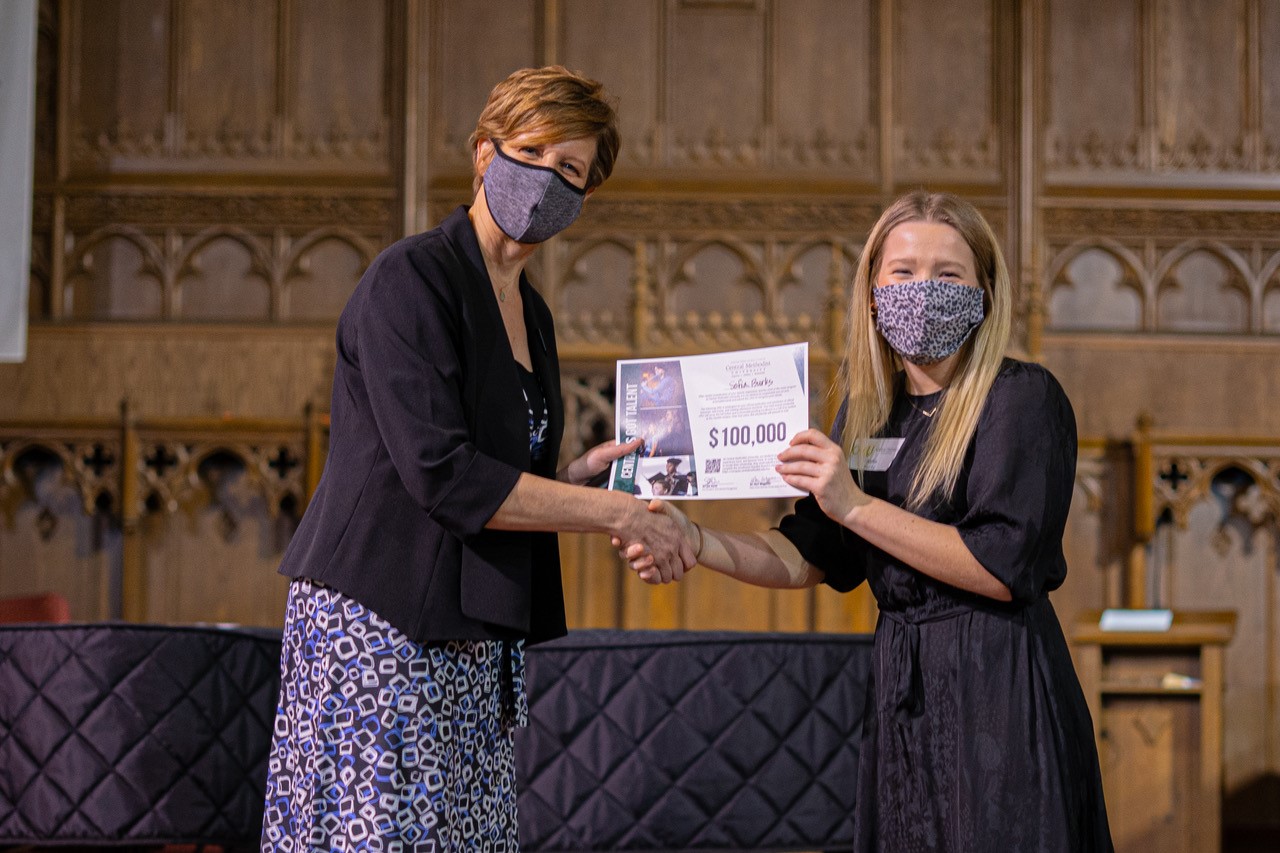 Central Methodist University is about to add even more outstanding talent to its already robust music program. With Thursday's latest iteration of the annual Central's Got Talent competition, two dozen of the region's best recruits in vocal and instrumental music and praise band were awarded scholarships. Sofia Burks of Macon and Matt Hamilton of Troy were announced as the grand prize winners of full-tuition awards.
Both winners of the competition said that the nature of the event was a stress-inducing one, but they are looking forward to becoming CMU Eagles now that a weight has been lifted.
"This day has been great, seeing the campus and learning about the school. Although it was stressful, I'm really glad I did it," said Burks, who participated in the praise band realm of the competition. "[The scholarship] means so much, not having to worry as much about the financials of college. The gift of that much money to go to an amazing school, it means a lot."
"Today was very stressful, a lot of anticipation and waiting," agreed Hamilton, who performed on trumpet. "But I feel pretty great. [Winning] was like a stress-reliever for me. It's pretty awesome."
On what they're most looking forward to about attending Central and being part of the Swinney Conservatory of Music, both CGT winners pointed to the welcoming community and beautiful campus, which they experienced throughout the day of competition.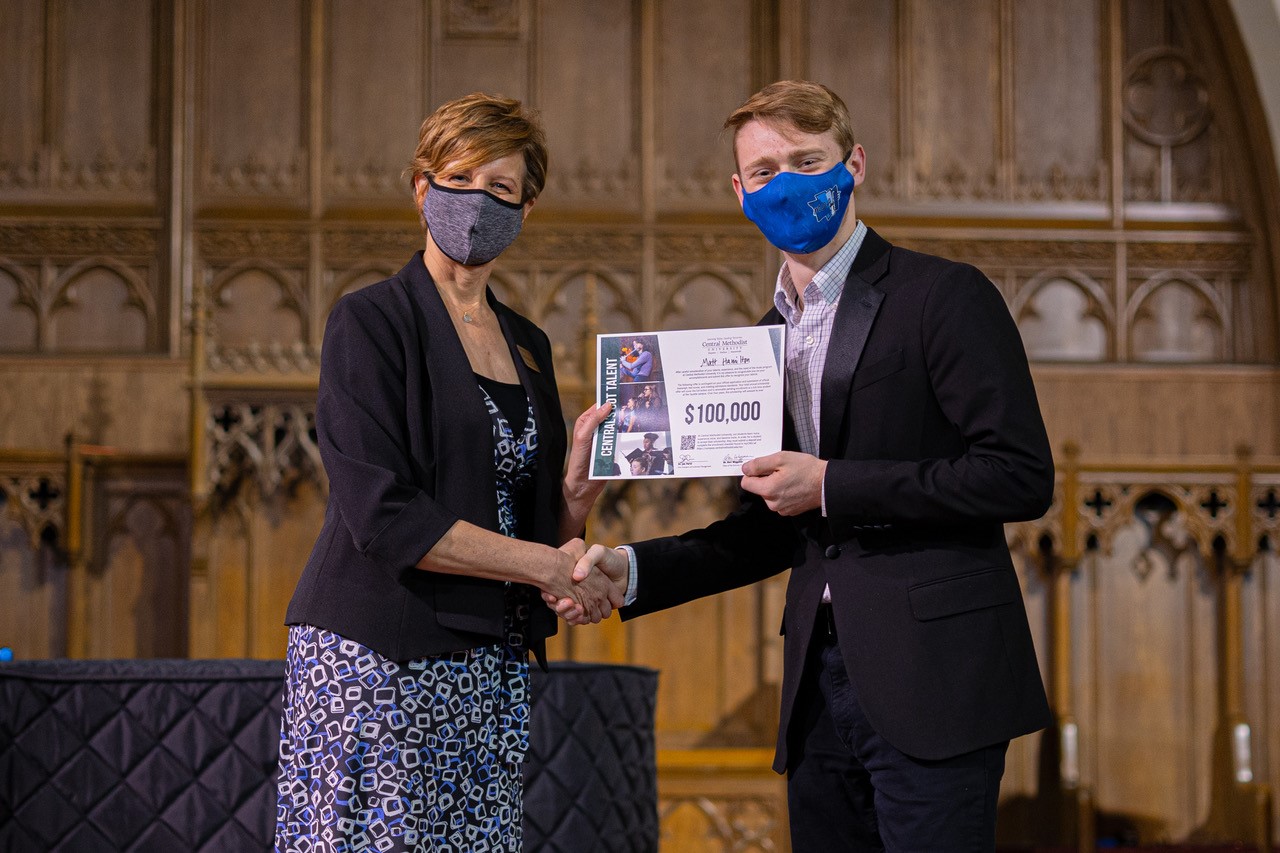 "It's really relaxing, like a small neighborhood. And the teachers actually care about you," said Hamilton. "I've gone to other colleges and they haven't had that, and it just doesn't make you feel welcome. Here, I feel welcome."
"Hearing the students talk about how welcoming and friendly and homey it is, that's probably the top of the list," Burks said for what she looks forward to about being a CMU student. "Being a part of the worship band, that's definitely there, too."
Burks, a senior at Macon High School, performed "Names" by Elevation Worship and Maverick City Music, which she said has lyrics that are very meaningful to her. She added that Maverick City Music was a group that motivated her to get into singing and performing at her church, which was not always in her "comfort zone."
As for Hamilton, a senior at Troy Buchanan High School, playing the trumpet has been a focus of his life since sixth grade. He has since earned accolades at the district and state level for his performance and chose Herbert L. Clarke's "The Bride of the Waves" for his CGT performance piece because it challenged him.
Burks and Hamilton were the top prize earners out of an elite group of six finalists on the day. The remaining finalists included Natalle Canote of Harrisburg in praise band, Evalyn Mateski of Morris, Ill. and Mallory Boyer of Troy in vocal performance, and Hannah Raley of Jefferson City in instrumental performance. All were awarded music scholarships stackable with other academic awards.
The rest of the field of performers, who also received music scholarships from Central, included Thomas Libbert of Freeburg, Mariah Nichols of Fulton, Taylor Baker of Mt. Vernon, Josh Abbott of Wardsville, Lillian Wade of Marshall, Shane Winston of Sweet Springs, Nealia Toedebusch of Centralia, Max Blankenship of Troy, Madisyn Conway of Salisbury, Quinsie Millar of Salisbury, Trinity Thompkins of Independence, Devin Rodgerson of Ashland, Neb., Jordyn Williamson of Boonville, Kate Schneringer of Boonville, Madelyn Ganley of Hallsville, Tambria Wilson of Cape Girardeau, Allison Gowin of Moberly, and Vincent Srader of Lee's Summit.