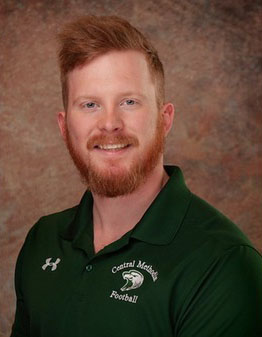 The Central Methodist Department of Athletics welcomed Austin Sang as the Strength and Conditioning Coordinator during the Fall of 2021. Sang oversees the strength and conditioning efforts of all 20 CMU varsity sports. 
He is a 2018 graduate of Cumberland University in Lebanon, Tenn., where he played football and obtained his Bachelor of Science degree in Exercise Science. 
Upon graduation, he made the trip north to South Bend, Ind. and served an internship with the University of Notre Dame football program. While with the Fighting Irish, Sang assisted in the planning and implementation of all summer lifts and conditioning sessions. 
The following year, Sang worked for fellow Heart of America Conference member Grand View University and most recently spent time as a volunteer assistant coach at the University of Mobile. During his time with the Rams, Sang helped implement strength and conditioning programs for men's basketball, men's and women's soccer, and men's and women's tennis. 
Sang originally hails from Nashville, Tenn.