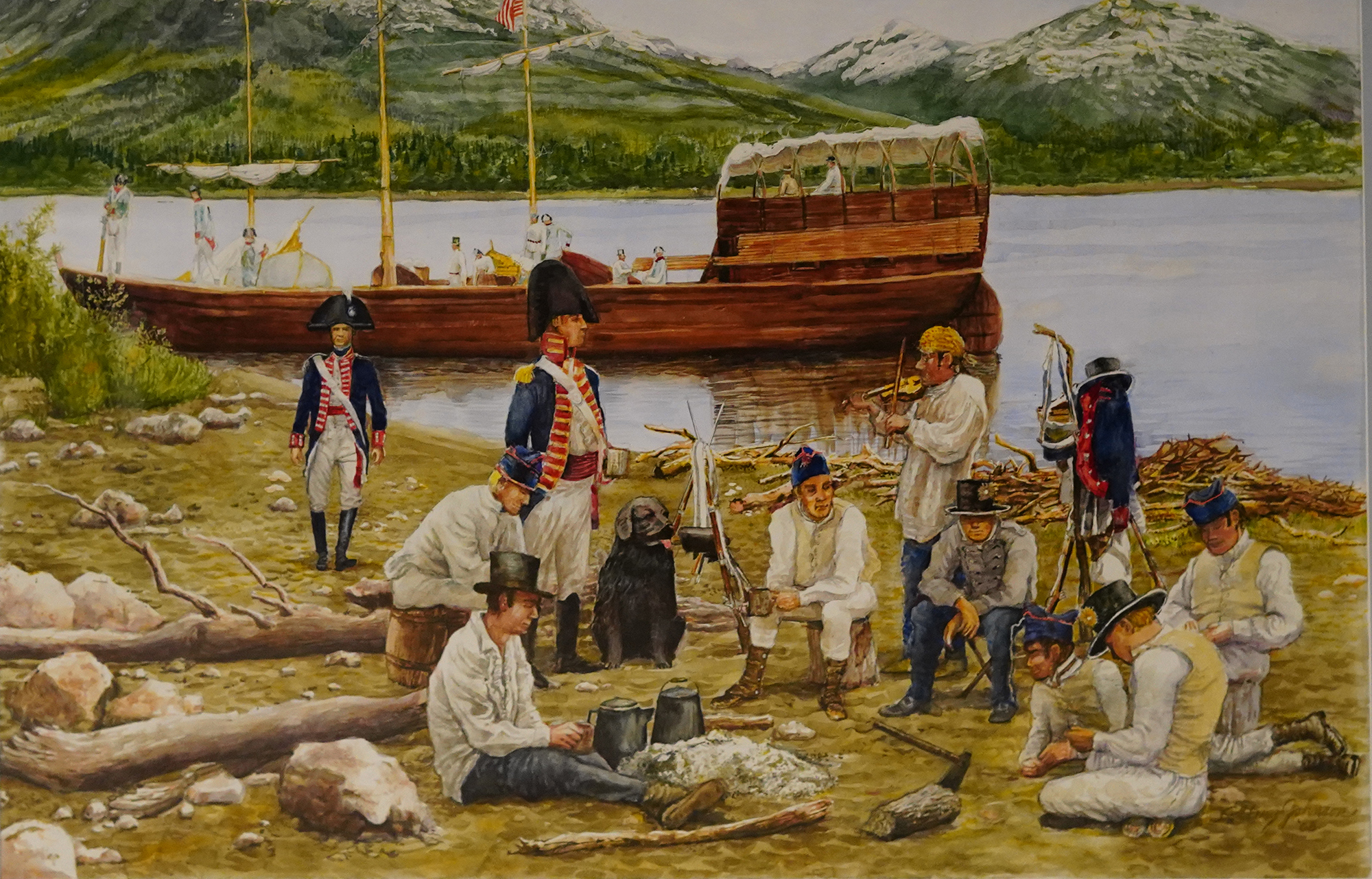 Sometime in the early 1950s, a Central Methodist College freshman named Ellery Johnson ('56) sent a letter home to his parents. Much like a student today would check in with parents over text or FaceTime, he wanted to update them on how college life was going – he was busy with a research paper, had enough money to last the semester, was going on dates.
And like a modern student's otherwise simple text message may be littered with emojis, Johnson's routine letter home was full of little drawings and doodles. A baseball, a trumpet, a sun, several stars, and many different hand-drawn "fonts" give the letter character, along with a post-script drawing of a beach scene next to where he wishes his parents a fun time in Florida.
It's a simple letter, but no doubt a work of art, and just one of many that will be on display starting on January 30, as works from Johnson's prolific career will make up two-thirds of the newest show at the Ashby-Hodge Gallery of American Art.
"The Wonderful World of Ellery Johnson" will open at the end of the month in Galleries One and Two, with Gallery Three housing a quintet of works by Thomas Moran, the Glenn and Veronica Cox collection held over, and a tribute to Black artists. The show will run from January 30 until April 21.
"My father was always basically an educator. He always found different ways to educate," said Johnson's son, Ellery Johnson III. "He was a permanent student about where we came from and how we got here. This is reflected in every project."
Those projects include a variety of media, including sculptures, paintings, pottery, jewelry, and more, many of which were influenced by Native American history and culture. Throughout his life, Johnson's work garnered numerous awards and inclusion in exhibitions across the U.S. and Mexico. Now, more than two dozen of Johnson's pieces will remain in the Ashby-Hodge permanent collection after the show's completion.
Following his graduation from Central, Johnson served in the Army for three years, then worked as a middle school art teacher in Hazelwood from the '70s to the mid-'90s. He continued to study art, education, Spanish, and art history at various universities and traveled the world to learn as much about it as he could. Johnson passed away in 2017 at the age of 83.
 "On more than many occasions, I'd heard him referred to as 'the most interesting man in the world' by friends and colleagues," Ellery said of his father. "He was well-travelled, and these trips were not leisure. Europe, Asia, Middle East, South Pacific, Central America. I guarantee every historical word and relic at every stop was read and studied. My mother had the patience of a saint."
Ellery's mother, Sue Ann Johnson, was integral in starting the process of bringing Johnson's work to Central and to Ashby-Hodge. She first began speaking with Dr. Joe Geist, registrar of the Gallery, about the possibility of a "big show" in early 2020. She unfortunately passed away in the same year, before the show could come together, but much of the surviving family is expected to attend the exhibit when it opens.
Visitors will be able to view all three Galleries, plus a newly acquired painting by George Caleb Bingham, from January 30 to April 21. The Gallery will be open on Sunday, Tuesday, Wednesday, and Thursday from 1:30 to 4:30 p.m. It will be closed during Spring Break, March 13-20. Special tours are also available by contacting curator Denise Haskamp at 660-248-6304 or
dhaskamp@centralmethodist.edu
. All visitors are required to wear masks.