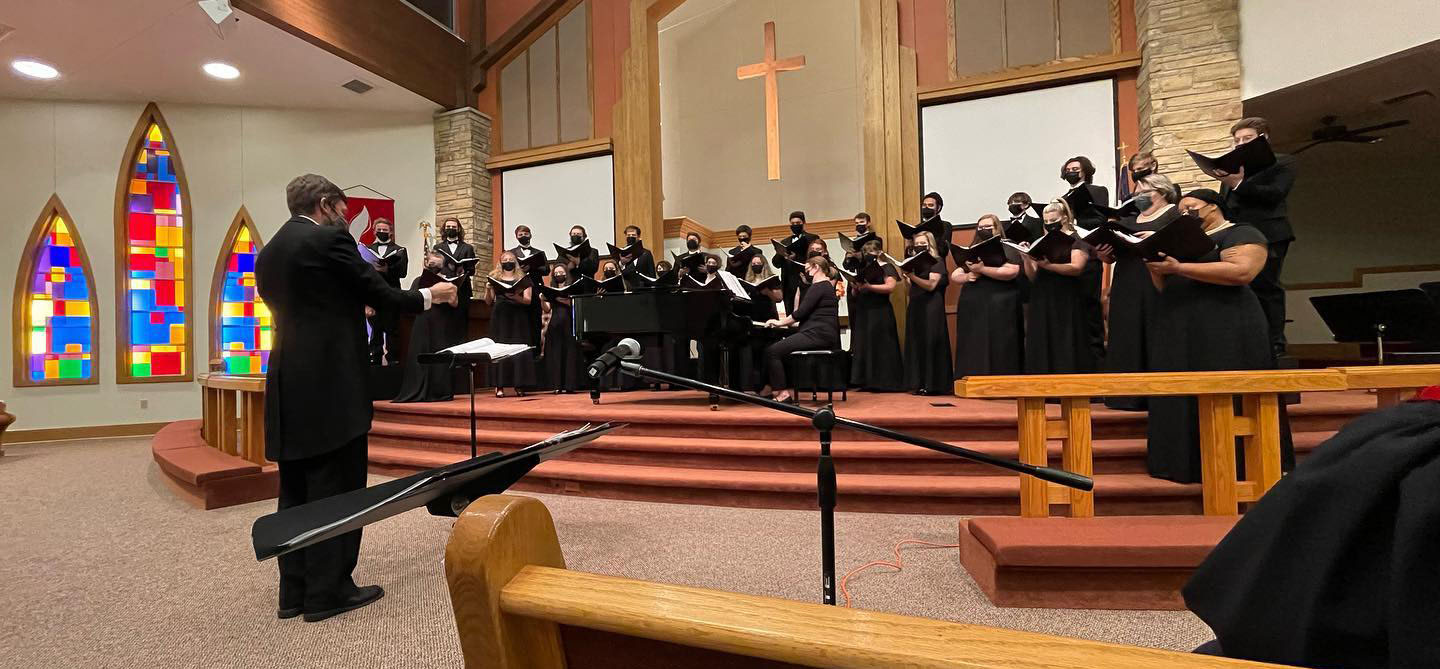 Central Methodist University is ringing in the holiday season in musical style over the next week, with three concerts on tap from the Swinney Conservatory of Music. The Conservatory Singers and Chorale will kick things off on Sunday, December 5, followed by the CMU Jazz Ensemble on December 6, and the CMU Concert Band on December 12.
The December 5 choir concert will begin at 4 p.m. in Linn Memorial United Methodist Church. Dr. Patrick Dill will serve as the conductor and be joined by Dr. Melissa Simons and Janet O'Neill as collaborative pianists and Ezechiel Daos as the collaborative organist.
This year's Conservatory Singers Fellow, Lilly Powell will lead the group and sing as a soprano. Other members of the Conservatory Singers choir include:
Soprano – Megan Adams, Tayler Allen, Avery Bohon, Samantha Cox, Elana Dodson, Addylyn Gabriel, Rachel Guilford, Hunter Hanson, Carliss Howell, Sarah King, Tristin Prewitt, Noel Rilea, Hailey Sage, Alden Senor, and Juliana Shields
Alto – KeKona Asi, Kaitlyn Bailey, Layla Beyer, Chloe Clark, Rowan Collom, Emily Gann, Anna Geurkink, Destini Jefferson, Mikayla Kinkead, Joni Lehman, Cadence Lutman, Cocone Matsuzawa, Emily Millstead, Anna Pendergrass, Arielle Prince, Morgan Puffer, and Kylie VanGundy
Tenor – Rob Brown, Ezechiel Daos, Xaden Lockett, Justin McEnaney, Mason Mitchell, Dalton Myler, Connor Rich, Jackson Strain, and Nathan Wren
Baritone/Bass – Bryce Daugherty, Dalton Eckhoff, Cory Edmonds, Isaac Francisco, Lucas Icarte, Paul Reinart, Jackson White, and Ryan Wilburn
In addition to his parts with the Conservatory Singers, Daos will also serve the role of Chorale Fellow. The remainder of the Chorale personnel list includes:
Soprano – Megan Adams, Madalyn Bartholomew, Addylyn Gabriel, Gracie Hartford, Lilly Powell, Hailey Sage, and Amanda Schrivener
Alto – KeKona Asi, Emily Gann, Anna Geurkink, Joni Lehman, Anna Pendergrass, Morgan Puffer, Kylie VanGundy, and Kennedy Walker
Tenor – Grady Baker, Rob Brown, Dalton Myler, Cole Nowlin, Connor Rich, and Nathan Wren
Baritone/Bass – Andrew Adams, Isaac Bartholomew, Mitchell Crofton, Tres Hampton, Ben Pilger, Brandon Swanson, and Colby Vincent
On Monday, December 6, Dr. David Witter and the CMU Jazz Ensemble will be performing at 7:30 p.m. in the Classic Hall Band room. The program includes songs by Miles Davis, Luiz Bonfa, John Coltrane, and Oliver Nelson.
The ensemble for the night will be made up by Jack Fender on guitar, Mikayla Kinkead on piano, Josh Derendinger on drums, Grady Baker on bass and trumpet, Cory Edmonds on percussion and bass, Brandon Swanson on trombone and trumpet, and Casey Brooks on saxophone and flute.
Finally, the CMU Concert Band will be performing a 4 p.m. concert on Sunday, December 12 in Linn Memorial UMC. Professor Skip Vandelicht will direct, while Madalyn Bartholomew is this year's Keith House Band Fellow and Makenzie Sisney is the Ken and Nancy Seward Band Fellow. Other members of the band currently preparing to perform are:
Flute – Casey Brooks, Johnny Brownell, Maureen Hennessy, Abigail Hicks, and Lyna Williams-Whitehead
Oboe – Megan Adams
Clarinet – Jessica Arnold, Bailey Caldwell, Maura Drew, Jennifer Durbin, Faith Jasper, Zach Martin, Connor Sanchegraw, and Shelly Swink
Bass clarinet – Avery Bohon and Wesley Spargo
Alto saxophone – Heather Armstrong, Sydney Dame, Austin Schaedler, and Jonathan Schlared
Tenor saxophone – Professor Steve Litwiller
Bassoon – Hilary Bloss
Trumpet – J.T. Bott, Michael Brown, Josh Derendinger, Hailey Gorman, Matthew Kilmer, Ava Lairmore, and Colby Newman
French horn – Alden Senor
Trombone – Madalyn Bartholomew, Jordan Browning, Mackenzie Duey, Jaxon Grossenburg, Paul Harrison, Jacob Keller, and Makenzie Sisney
Euphonium – Andrew Adams and Bryce Daugherty
Tuba – Ross Nelson, Brandon Swanson, and Michael Watts
String bass – Cory Edmonds
Percussion – Hannah Bailey, Austin Bristow, Grace Hartford, Destini Jefferson, and Austin Small
Watch for livestreams of all the upcoming music events at https://www.centralmethodist.edu/about/campus-attractions/swinney-conservatory/streams.html.