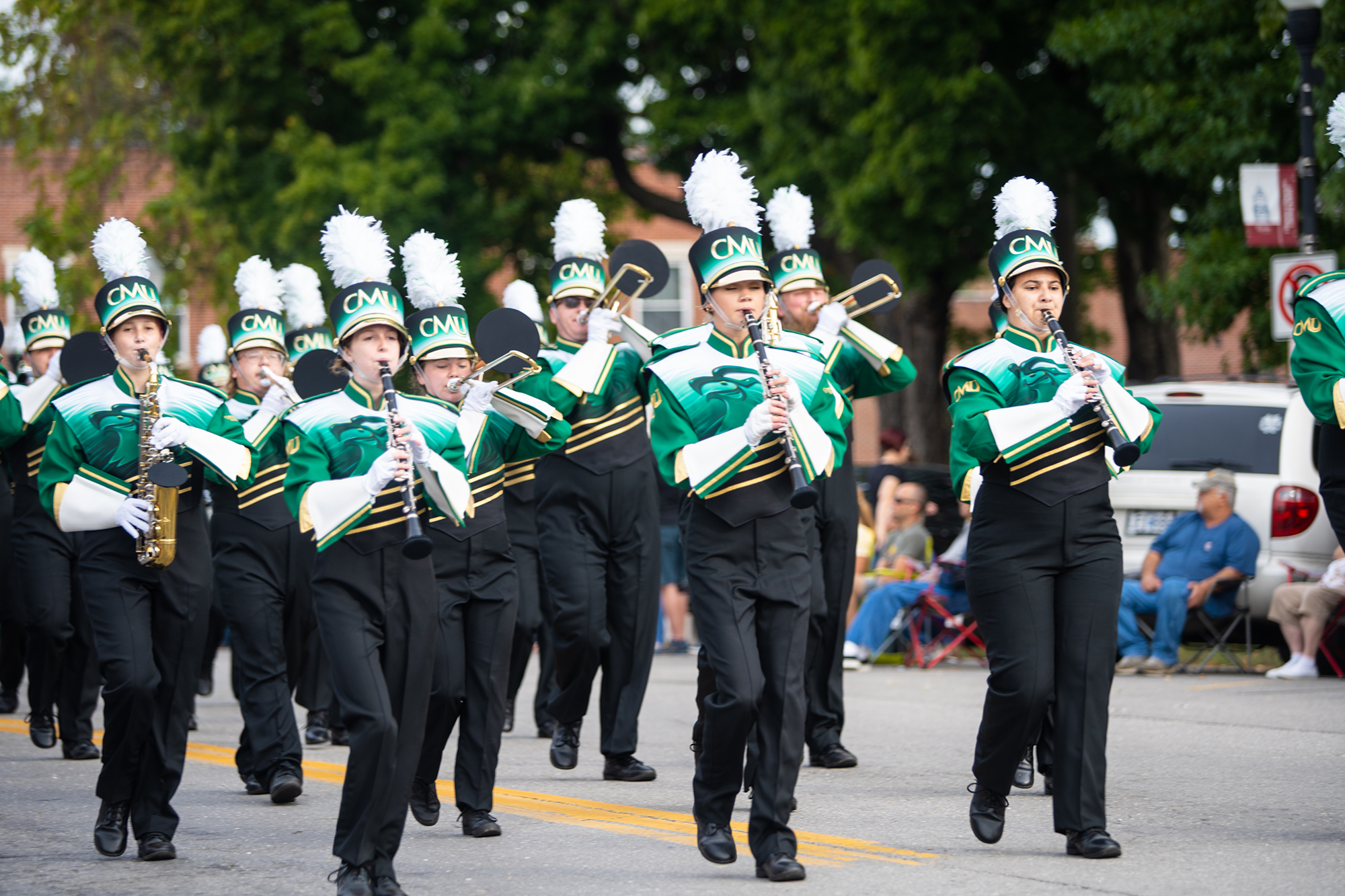 The Fayette square was once again filled with people and music on October 9, as the Central Methodist University Band Day made its triumphant return after the event was canceled in 2020. Students from more than 30 schools came to play in the parade, field competition, and indoor competitions.
"After a year of canceling events, it was a thrill to see so many young musicians working together to compete at the CMU Band Day," said Dr. Dori Waggoner, chair of the fine arts division. "Thanks to the planning of Skip Vandelicht, CMU Director of Bands, Missouri high school students were able to perform for enthusiastic fans on the square and at the Davis Field."
Several CMU alumni returned to Fayette to participate as band directors, including Dominik Lehman (Glasgow), Daniel Long (Norborne), Casey McDonald (Eugene), Kevin Fearn (Harrisburg), Nick Vick (Linn), Lisa Dobbs (New Franklin), Michael Williams (Salisbury), Tiffany Hankins (Blair Oaks), Alec Fields (Boonville), J. West (Hallsville), Kelly Neudecker (Fulton) and Jim Stockmann (Waynesville).
The top schools in each class went home with trophies and awards for each category. Those results are listed below. Auxiliary award winners are listed in italics.
Parade/Street Competition
Class 1 – 1. North Shelby 2. Glasgow 3. Brunswick 4. Norborne
Class 2 – 1. Fayette 2. Gallatin 3. New Franklin 4. Westran 5. Linn 6. Eugene
Class 3 – 1. Macon 2. Eldon 3. Boonville
Class 4 – 1. Oak Grove 2. Fulton
Class 5 – 1. Troy-Buchanan 2. Waynesville
Field Competition
Class 1 – 1. North Shelby 2. Glasgow
Class 2 – 1. Fayette 2. Harrisburg 3. Mid Buchanan 4. Salisbury
Class 3 – 1. Macon 2. Boonville 3. Eldon
Class 4 – 1. Grandview 2. Kirksville 3. Oak Grove
Class 5 – 1. Troy-Buchanan 2. Waynesville
Indoor Color Guard
Class 1 – 1. Worth County 2. Leeton 3. Norborne
Class 2 – 1. Mid Buchanan 2. Fayette 3. Gallatin
Class 3 – 1. Eldon 2. Hallsville 3. Macon
Class 4 – 1. Oak Grove 2. Kirksville 3. Fulton
Class 5 – 1. Troy-Buchanan
Indoor Drum Line
Class 1 – 1. Norborne 2. Leeton 3. North Shelby
Class 2 – 1. Gallatin 2. Fayette 3. Mid Buchanan
Class 3 – 1. Hallsville 2. Macon
Class 4 – 1. Grandview 2. Oak Grove 3. Kirksville
Class 5 – 1. Troy-Buchanan
Outstanding Drum Major (all classes)
Waynesville
Sweepstakes Award
Troy-Buchanan