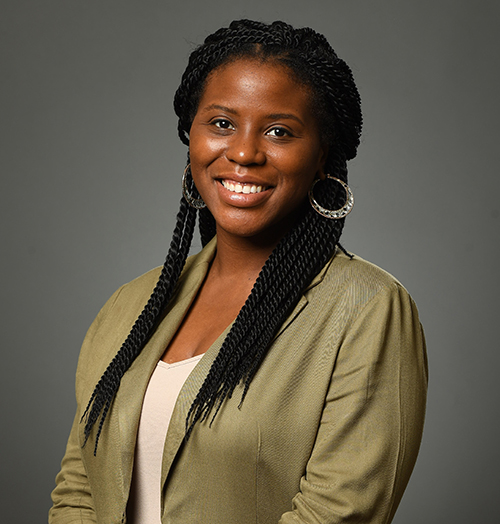 Central Methodist University's Natasha Wilson, Vice President for Student Life and Athletics, has been named one of eight recipients of a prestigious award from Nike. The Nike Executive of the Year Award, formerly known as the Nike Administrator of the Year Award, is presented to Women Leaders in College Sports members for significant contributions made as a senior-level administrator of intercollegiate athletics. This award recognizes administrative excellence in each division (NCAA Division I, FBS, FCS, Division II, Division III, NAIA/NJCAA/Community College and Conference/Organization). The Executive of the Year Award in each division is presented in years which an individual is deserving of such recognition, typically annually.
Wilson was named the Vice President for Student Life and Athletics at CMU in May 2019, before officially beginning her duties in July 2019. In her role, she provides leadership and guidance for the development and implementation of high-quality, student-centered approaches that support student success in non-academic dimensions of the university experience. She oversees the office of student development and the athletics department, which now includes 17 intercollegiate sports.

Previously, she served for six years as the Associate Athletic Director/Compliance Coordinator and Senior Woman Administrator for Johnson C. Smith University in Charlotte, N.C. In this role, Wilson oversaw all day-to-day compliance-related tasks along with providing interpretation and education of NCAA D-II legislation for all campus constituents. In addition to compliance responsibilities, Wilson also served as a sports administrator for bowling, women's basketball, cheerleading, men's and women's cross country/track and field, and men's and women's tennis. She played an essential role in managing internal and external operations for the overall athletic department. During her tenure as sports supervisor, both the women's basketball and women's track and field teams won conference championships and the women's tennis team competed in the CIAA Championship two years in a row. In 2018, she represented the institution as Co-Meet Director while hosting the 2018 NCAA Outdoor Track and Field Championships on the campus of Johnson C. Smith University. She served as the Southern Vice President on the CIAA Management Council. Wilson had previously served as President of the CIAA Compliance Director's Association and Vice President of the CIAA Senior Woman Administrator Association. She was a member of the NCAA Division II Membership Committee. 

Prior to JCSU, Wilson worked for six years at fellow Central Intercollegiate Athletic Association (CIAA) institution, Lincoln University of Pennsylvania. She began as the Assistant Athletic Director for Compliance and the department's Senior Woman Administrator in 2006. Wilson was elevated to the role of Associate Athletic Director in 2010. While at Lincoln (Pa.), Wilson served as a sports administrator for bowling, women's tennis, men's tennis, women's soccer, baseball, softball, and cheerleading. She was instrumental in revamping the compliance policies and procedures as well as successfully transitioning the athletic department from NCAA Division III to Division II. Wilson helped to develop a Gender Equity Plan for the department as well as the creation of a five-year strategic plan. During her tenure at Lincoln (Pa.), she established the first-ever Student-Athlete Advisory Committee (SAAC) and launched the NCAA CHAMPS/ Life Skills program for athletics.

Most recently, she was nominated to serve as a member of the NAIA's National Coordinating Committee and the Conference Commissioners Association Committee on Respect, Inclusivity, Support, and Education (CCA R.I.S.E.) Wilson is also an active member of the National Association of College Directors of Athletics (NACDA), Minority Opportunities Athletic Association (MOAA), and Women Leaders in College Sports.

Wilson earned a Bachelor of Science Degree in Sports Management from Winston-Salem State University in 2005 and earned a Master of Arts in Coaching and Athletic Administration from Concordia University Irvine in February 2019.

AWARDS/HONORS:
Dr. Charles Whitcomb NCAA Leadership Institute Graduate, Class of 2019
JCSU Lonnie T. Parker Servant Leadership Award, 2018
JCSU Rising Star Award for proposal development, 2017-2018
CIAA Senior Woman Administrator of the Year 2016
CIAA Senior Woman Administrator of the Year 2014
NACWAA Hers Graduate, Class of 2009