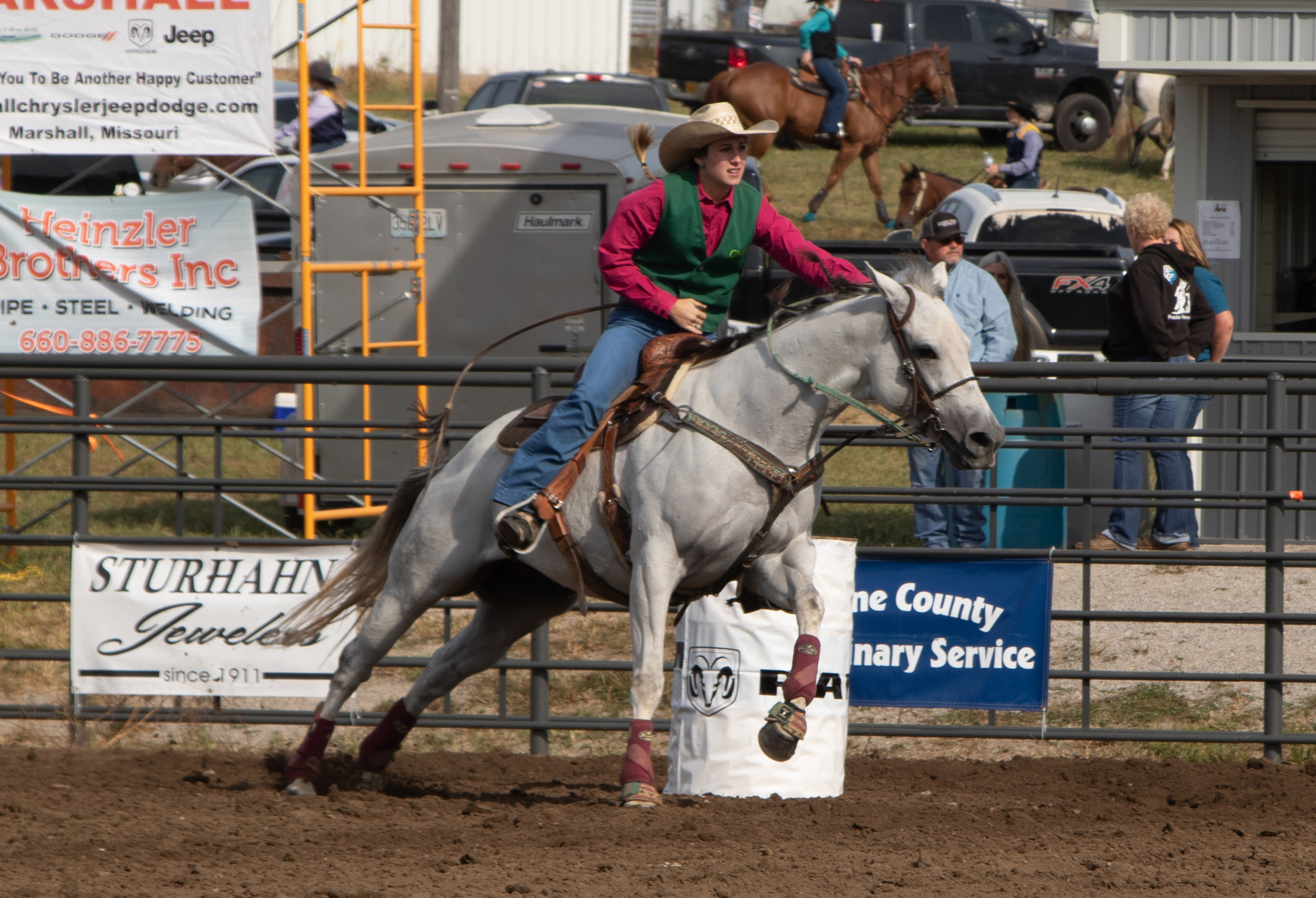 After two strong first years of competition in the Ozark Region of the National Intercollegiate Rodeo Association, the Central Methodist University rodeo team is raring and ready to go for season three.
With the graduation of Kelsi Haller, the team lost its most consistent point-earner from the first two seasons, but coach Amanda Phipps remains enthusiastic about the 2021-22 lineup. Led by returning barrel racer and breakaway roper Larrya Stegall, the team competed at Missouri Valley College on September 23-24 and earned its first points of the season on the women's side.
"I don't like [not having Haller] at all because she was so consistent, and she's a good kid. But I have girls that can definitely hold her spot," said Phipps after the Friday slack competition. "Larrya's really stepping up to the plate, she really is."
Stegall was Central's lone competitor to earn a place in the short round of the barrel racing, just making the cut in 10th place. She then shaved two-tenths of a second off her time in the short go to earn sixth place for the round and seventh overall. The 10 points didn't come easy, as Stegall found out about a loss in the family between rounds, but she showed her strength to earn the team's first top 10 finish of the season.
"I'm very proud of her, especially after dealing with a family loss," said Phipps. "She is a strong girl. I have lots of hope for her this year."
Also returning to the team for this season are Madison Steele, Kendra Goldschmidt, and Leah Jackson, who all saw action in barrel racing and roping competitions at MVC. Harley Staggs also competed on the women's side as a newcomer to the team, and Austin Frye represented the Eagles in the men's saddle bronc riding for the first time.
"He's not really been around rodeo a ton, but he is a hard-working sucker and tries hard," Phipps said in praise of Frye. "He'd be at practice five days a week and buck horses every single day if he could."
Overall, Phipps is optimistic about the team and about the trajectory of the program as the third season of competition gets underway. She cites CMU's partnership with Three Rivers College and the team's strong past performances as keys to building the program.
"With Kelsi running so well and making the college finals, we've definitely gotten our name out there," she said. "I think [the program] can only grow, and I hope this year we really do grow."
Central will be back at it this weekend with a trip to Livingston, Ala. for the University of West Alabama rodeo. See the
team web page
for the full fall schedule.