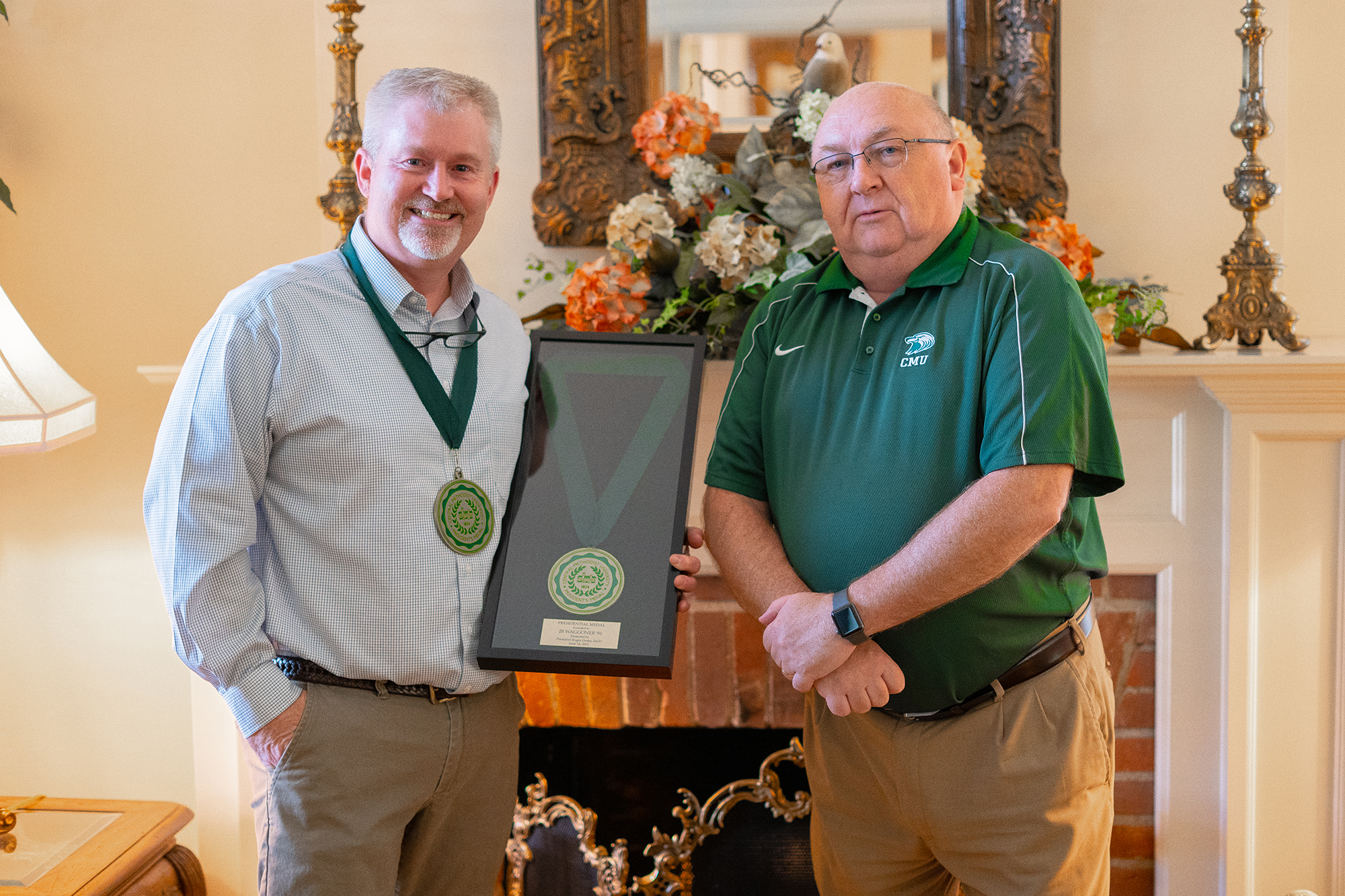 Central Methodist University last week presented the first-ever President's Medal to one of its most talented and committed alums -- J.B. Waggoner '91.
Dr. Roger Drake surprised Waggoner with the prestigious award during a ceremony on June 14 at the Coleman House.
"The first recipient of the President's Medal provided crucial advice and counsel to lead the university through the recent pandemic," Drake said. "He has truly given sacrificially of his time, talent, and treasure. He provides quality jobs in our community and works tirelessly in support of economic development and the betterment of Fayette."
The President's Medal will be given at the discretion of the president only to those individuals who have contributed significantly of their time, expertise, and financial resources, and whose contributions have made an impact on the campus, to students, faculty, or staff.
Waggoner, who runs Inovatia Laboratories in Fayette, spent many years serving on CMU's board of trustees, some as chairman of the building and grounds committee.
"J.B. is probably the smartest guy I know," Drake said. "On the board, he filled the huge shoes of Fred Alexander, and he did well. That committee planned the construction of the Thogmorton Center and the renovation of Stedman Hall, fundamentally positioning the college for the future."
Waggoner's economic development interests span mid-Missouri. He serves as chairman of the Moberly Area Economic Development Council and is on the board of Fayette's new Community Improvement District. He also served as mayor of Fayette in the early 2000s.
He was surprised by the recognition.
"I am honored to have been recognized by Dr. Drake and CMU in this manner," he said. "It is such a pleasure to have the opportunity to work with fine people who are doing interesting things. In fact, I should probably be giving Roger Drake and his team awards for allowing me to participate."
Waggoner said he had no idea while attending then-Central Methodist College that he would end up making a life for himself in Fayette.
"After having lived here for a couple of years while attending graduate school, I discovered it would be a great place to do life," he said. "Fayette and Howard County are great places and CMU contributes to that, significantly.
"My commitment to helping preserve and grow these places (CMU and our communities) have come with the encouragement and support of many others who are committed to the same goal."