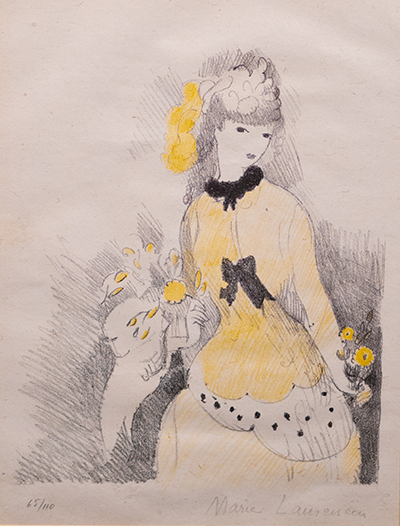 The Central Methodist University family lost one of its most recognizable and beloved alumni this winter when Martha (Rogers) Holman '47 passed away on January 5. But a part of her own family's legacy will now remain on campus forever, namely in the Ashby-Hodge Gallery of American Art.
Upon Martha's death, the extensive art collection she and her husband, Bill Holman, gathered and maintained over the years has been donated to the Gallery to join its permanent collection. And the latest exhibit to adorn the walls of the Classic Hall attraction will feature those works prominently.
Opening May 2 and running to July 22, the exhibit will highlight the Bill and Martha Holman Collection in Gallery 1 and 2, while Gallery 3 will be home to Another Look at the Dr. John Hutcherson Collection.
This isn't the first time the Holman collection has been a central element of an Ashby-Hodge exhibit. In fact, many of the pieces were part of a spring/summer 2017 show called "The Art of Collecting."
As with that show, the new exhibit will showcase a wide variety of work collected by the Holmans over their many years of traveling throughout the world. Works by well-known artists such as Edouard Manet, Henri Matisse, Alexander Calder, and Joan Miro are part of the collection, along with pieces by less famous artists. In total, the Gallery has received 60 pieces of art from the Holman collection.
Having both attended Central and been active in the Fayette community, it only seems fitting that the Holmans' art collection ends up in the Gallery. Martha, who along with her husband became famous in recent years for attending CMU basketball games and handing out lollipops to players, was an active and involved student while at Central. She was a member of the A capella choir and a drum major in the marching band, belonged to Pi Kappa Theta and Phi Beta, was voted Homecoming queen, and was an honor student while majoring in mathematics. Bill served in the Air Force during World War II, and after the war stayed in Europe, where much of the art in the collection was acquired. When the two reunited in 1985 and married in 1986, they made Fayette home but continued to travel the world and add to their collection.
Now, the collection will be available for visitors of the Gallery to view from May 2 to July 22 on the first floor of Classic Hall. The Gallery will be open from 1:30 to 4:30 p.m. every Sunday, Tuesday, Wednesday, and Thursday. Special tours are also available by contacting curator Denise Haskamp at 660-248-6304 or
dhaskamp@centralmethodist.edu
. Social distancing is practiced in the Gallery, and all visitors are required to wear masks.