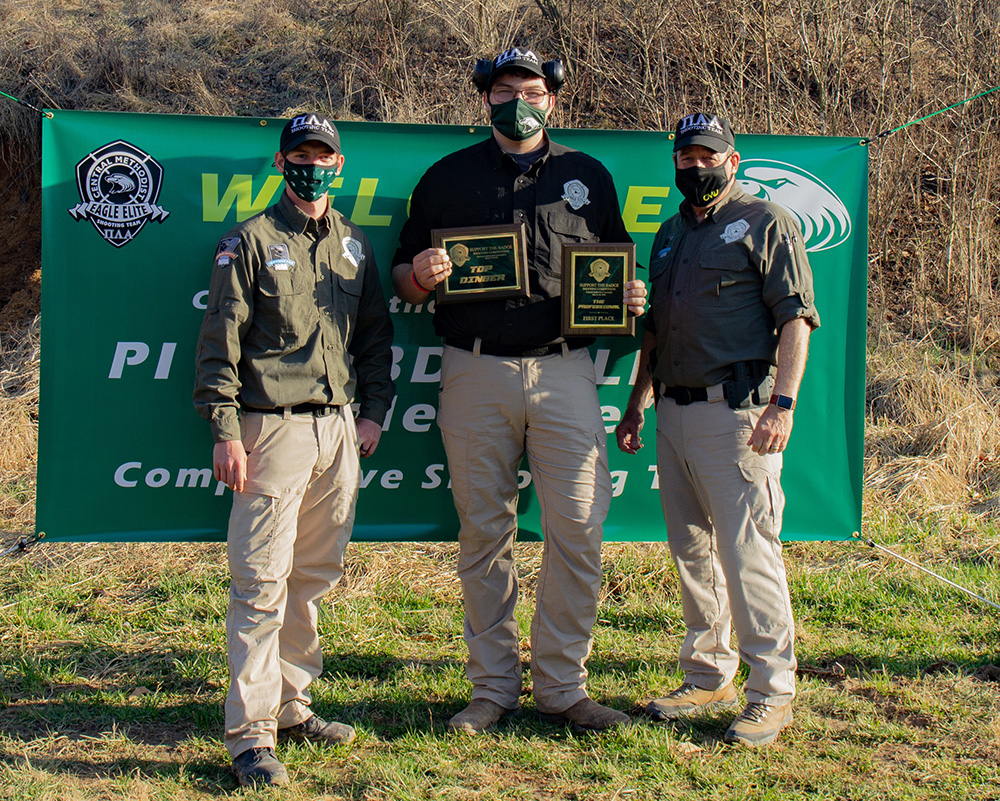 Fresh off its historic first-ever competition, the Central Methodist University shooting team is preparing for the American Criminal Justice Association conference competition next month.
The Eagle Elite shooters, members of Pi Lambda Alpha, will enter not only the pistol competition at the ACJA conference, but also academics, agility, and crime scene investigation, said Pi Lambda President Katelyn Streeter.
"The competition will be remote this year because of the pandemic," Streeter said. "We'll shoot here and send in our scores. And for instance, in crime scene investigation, they'll send us photos and other information and we'll have 90 minutes to write-up a report."
Streeter said the Eagle Elite group is well-prepared thanks to its inaugural competition March 20. The Support the Badge pistol competition, held at D.C. Rogers Lake range, featured the Eagle Elite competing against regional law enforcement agencies such as the Boonville Police Department, Fayette Police Department, Howard County Sheriff's Department, and the Missouri State Highway Patrol.
That competition had three divisions – professional, sergeant, and rookie. CMU's own John Schell was the top marksman at the professional level. He is currently attending the Law Enforcement Training Academy (LETI) under a special agreement that allows CMU criminal justice majors to study in the academy and earn college credit. Jordan McAlester was second at the professional level.
At the sergeant level, Jobe Edwards was first, Mikayla Sturm second, and Tristan Riggs was third.
At the rookie level, Katarina Morris was first, Jasmine Campbell second, and Samantha Mudd third.