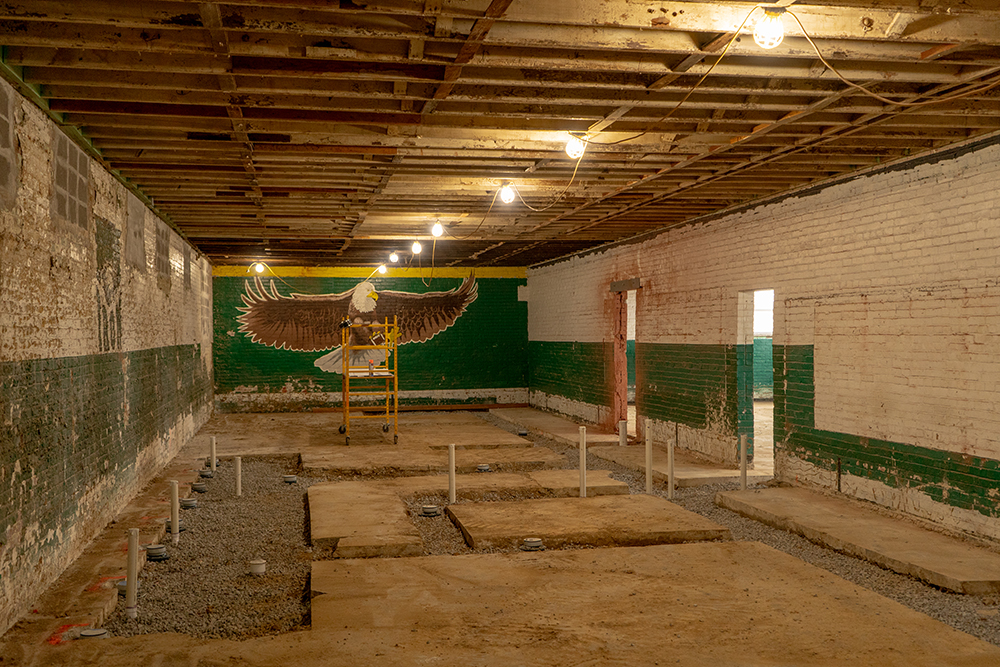 With two history-making seasons under their belts already, the Central Methodist University wrestling teams are getting a $2 million upgrade.
Men's and women's wrestling, along with the CMU community as a whole, have been patiently awaiting the renovation of Clingenpeel Hall since 2019, when the new sport arrived at Central. And now the end is in sight, says Derry Wiswall, director of plant operations.
"The plan is to be finished by August before school starts back up," he said in early March as the weather grew warmer, allowing construction to really start moving.
The renovation has already come a long way from when work began around two years ago. The first step was addressing moisture infiltration and other issues on the outside of the building, which has been closed since 2017, according to Wiswall. Crews installed new windows and performed crucial waterproofing work before attention shifted inside. With all the plans in place and the freezing weather from February finally over, the real work on the interior has begun.
There's not much to look at inside right now, but when the work crews are finished, the former home to a gym, classrooms, archery and rifle range, handball courts, and a plethora of other uses will look much different to any past iteration of Clingenpeel Hall. The majority of the main floor will be taken up by the wrestling practice area, with multiple mats down and ready for use. Moving upstairs, a partial upper floor will house the wrestling coaches' offices. Wiswall reported that the coaches will have openings from which to look out over the practice area from above. On the basement level, brand-new locker room facilities will be built for both the men's and women's teams. Additionally, the Central football coaches will be given new offices across the hall.
But the wrestling coaches and athletes are by far the ones most looking forward to the renovations being finished, after having to make do with offices and practices wherever they could get them for the first two seasons.
"It's been two years in the making where we've been practicing in the rec center or in Puckett [Fieldhouse]," said men's wrestling coach Terrel Wilbourn. "So we're looking for a little structure. That's the thing I'm looking forward to the most going into year three."
Wilbourn and women's coach Brieana Delgado each referred to the new facility as a future home for their teams. Delgado also likened it to getting a "shiny new toy."
"Having our own space will be really nice," she said. "We'll be able to ramp up [our practices] and create a new home for the girls, and it's exciting that we continue to grow as a school and as a program."
The wrestling teams will continue to hold their home matches in Puckett Fieldhouse come next season, with hopefully more fans allowed to be in attendance. But all those involved are excited to finally have a practice facility, offices, and locker rooms to call their own.