Central Methodist University's reputation of bringing in some of the state's most talented young musicians and singers continued last week, at the annual Central's Got Talent competition. All participants were awarded scholarships at the end of the day, with Jacob Nelson of Macon and Casey Brooks of Pacific earning the top prize of a full-tuition awards.
Nelson and Brooks were among 20 students who spent the day on the CMU campus, performing a piece of their choosing from the areas of vocal, instrumental, or praise band performance. Nelson's winning performance combined voice and guitar on the praise song The Blessing, while Brooks performed Andante et Schertzo on the flute.
Both winners said they have been involved in music for many years.
"I became interested in music when I first started playing flute in sixth grade," said Brooks, who also stated that she's excited for the opportunity to attend CMU for its "close-kit atmosphere and beautiful music program."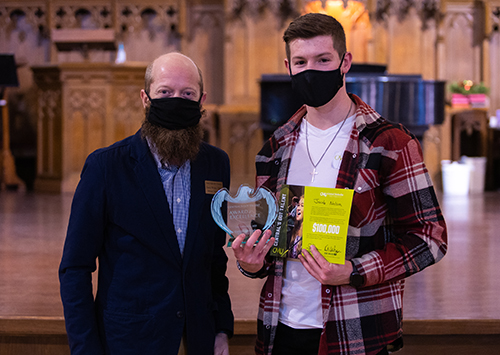 "I was born [into] performing with my family and haven't stopped singing since," Nelson said, adding that he began playing the guitar around three years ago. He also is looking forward to being a part of the music scene in Fayette, specifically the Navigators campus ministry group.
Other finalists in the competition were Hayden Alley of Boonville, Ava Lairmore of Fulton, Aeryn Mitchell of Peculiar, and Tristin Prewitt of Huntsville. Additional competitors included Kelsey Mathenia of Pacific, Colby Newman of Chillicothe, Katerin Isabela Walker of Boonville, Xaden Lockett of Centralia, Juliana Shields of Lake of the Ozark - Four Seasons, Jacob Henry of Stockton, Azia McClinton of Marshall, Shane Pence of Grain Valley, Emily Millstead of Holden, John Brownell-Hecke of Slater, Sean Morlock of Wentzville, Jordon Browning of Maysville, Jackson Strain of Shelbyville, and Elana Dodson of Bland.