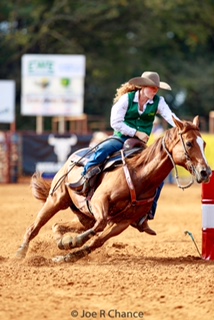 Another semester's worth of competition is officially in the books for the Central Methodist University rodeo team, as the fall season wrapped up over the weekend of November 13-15 with a trip to Kentucky.
Highlighting the team's weekend at Murray State University was another top ten finish by Kelsi Haller in the barrel racing competition. Haller was tied for seventh after her first run, qualifying for the short go the following day. She improved on her excellent first run and finished the short round in second place, for a second-place finish in the average for the weekend.
Teammates Kendra Goldschmidt and Larrya Stegall also had good runs in the long go, finishing just outside the necessary spots to make the short round, in 11th and 15th place, respectively.
Coach Amanda Phipps was happy with her team's performance and the barrel racers' impressive placements out of more than a hundred participants in the rodeo's competition.
With the successful weekend in Murray, the team finishes the fall season in seventh place in the Ozark Region overall, while Haller currently sits in fifth place among barrel racers.
The team will be back in action in the spring with its sights set on qualifying for the summer's national competition in Casper, Wyoming. First on the spring schedule will be a trip to Monticello, Arkansas on the first weekend of April.