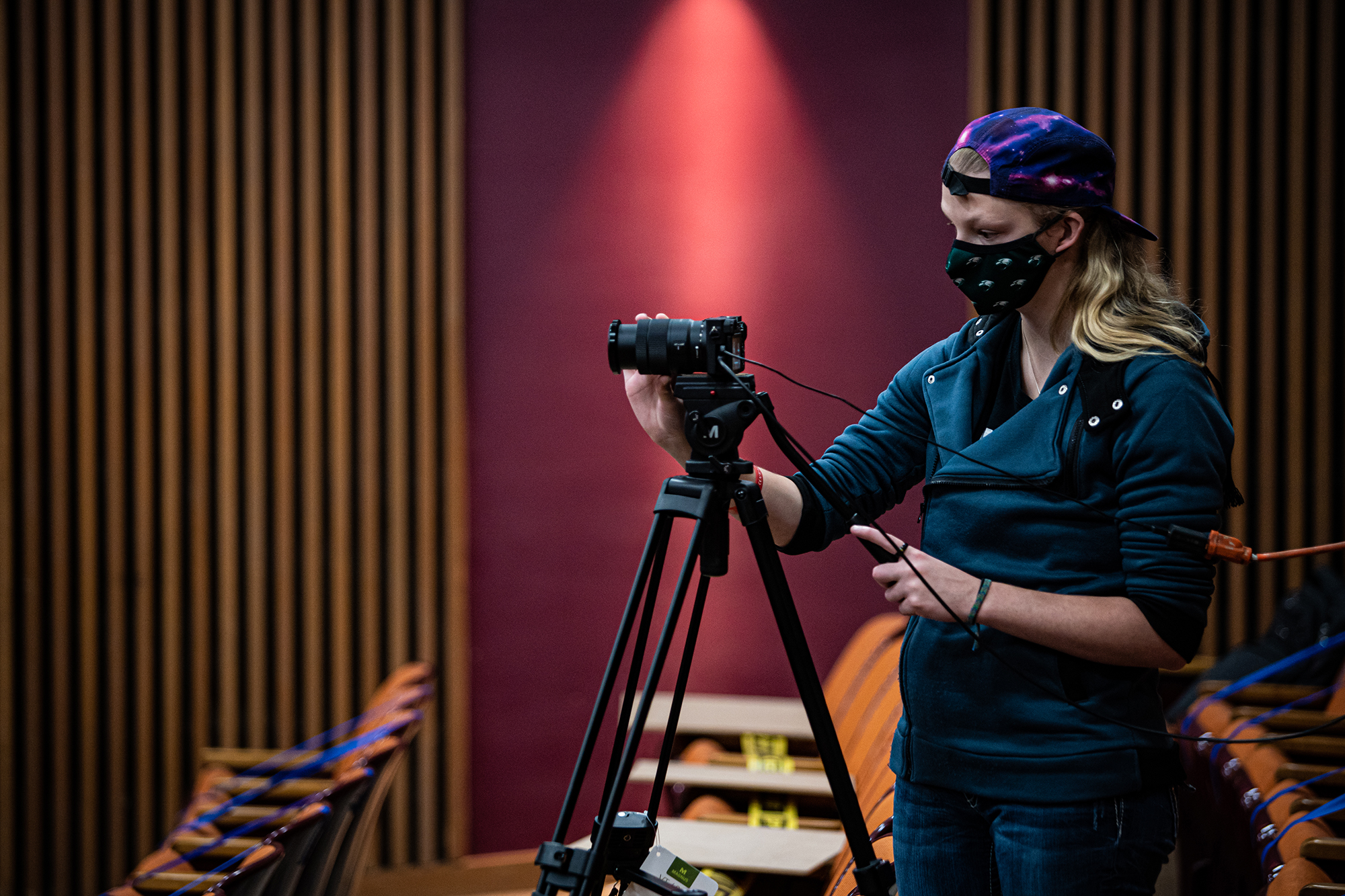 It's safe to say that this year's first show in the Little Theatre at Central Methodist University has been the most challenging to stage of any in Dr. Mark Kelty's career.
The same can be said about many aspects of life, especially on a college campus, this year. But unique to Kelty's situation is the added opportunity that comes with the challenges. The opportunity to provide some much-needed connection.
"I think what theatre and the creative arts provide is connection," said Kelty. "At all times but even more so now, we need that human interaction. We need to feel connected to each other."
Between masks and quarantines, Zoom meetings and social distancing, human interaction and connection are at a premium both at Central and around the world. But through events like next week's musical, A Gentleman's Guide to Love and Murder, the arts can bring people together even in a (mostly) virtual setting.
For the first time in its history, the Little Theatre is hosting a show that will not only be staged for a socially distanced and limited capacity in-house audience, but livestreamed to online spectators as well. This has meant a lot of extra work for many people, including a number of Central employees who usually have little to do with the theatre in a regular year. Joe Waner and Parker Johnson of the marketing department have been on-hand for camera training and livestream set-up respectively, and Duane Casady of technology services has "come to the rescue repeatedly," according to Kelty.
"This sounds like a cliché, but there is absolutely no way this could happen without them," said the professor of theatre.
Within the normal theatre realm as well, this year's show has brought out the best efforts of everyone involved. As the technical director and designer, professor Lonna Wilke has been "simply amazing," in Kelty's words, working tirelessly on "one of the most expansive and beautiful set designs" to grace the Little Theatre stage in some time. Costume designer Terri Rohlfing built the majority of the costumes for the show from scratch and managed to acquire CDC-approved clear face masks to help with the actors' expressiveness. Janet O'Neill – affectionately referred to as "Mama O" – has been advising and working with students on their vocal parts. Freshman Poppy Garner stepped up to fill the vacated role of assistant director and stage manager. Sophomore "phenom" P. Rob Brown choreographed all the musical numbers remotely, demonstrating the steps for his fellow cast members online so they could rehearse.
All that only begins to scratch the surface of the hard work being put in by every member of the show's cast and crew. Preparing for a play or musical in a normal setting can be a demanding and grueling task, but to do so under the current circumstances obviously comes with unprecedented challenges for the cast.
"One of the toughest challenges for our actors has been expressiveness while wearing a mask and practicing social distancing," said Kelty, who noted that the show is keeping social distancing in mind for its blocking, the specific movement and placement of actors on the stage. "You can't believe how challenging that is for theatre students. They want to be close when they communicate, but they're all working hard on this."
It wasn't just the suggested six feet of distance between actors that made rehearsals extra interesting this year, either. Just two weeks before opening night, the cast was finally able to get on stage all at the same time – for the first time.
 "I'll say over and over, this cast is tremendously talented and hard-working," Kelty said.
And the work won't end after the final curtain falls on the October 18 matinee. Kelty plans for each of this year's shows to follow the same livestream and seated audience hybrid model, therefore much of the same tasks will be similar for the casts and crews throughout the academic year. But Kelty is embracing the opportunity to add the livestream component because of its ability to tell necessary stories to a wider audience, to bring a serious message to people in the form of a musical comedy.
Ultimately, though, he believes those stories are best told in person and is happy to be able to have at least some of the audience present for live theatre.
"To be in the same room with creative people taking a risk and trying to make a difference, to make the world a better more compassionate place, a place where we can laugh and cry and understand each other," he said, "is so central to our co-existence as human beings."
A Gentleman's Guide to Love and Murder
will be livestreamed at 7:30 p.m. each day from October 15-17 and at 1:30 p.m. on October 18. Visit
https://www.showtix4u.com/event-details/40355
to purchase virtual tickets. To complete the checkout process, viewers will need to enter the password "#1Eagles" when prompted. Live shows at the same times will feature limited capacity and socially distanced seating for CMU students, faculty, and staff only for the first three shows, while the matinee will only be open to community members and families of the cast. Call the box office at 660-248-6281 for more information.