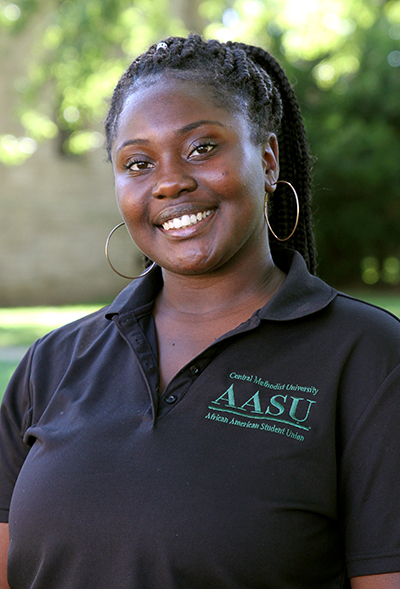 The officers of the 2020-21 African American Student Union executive team at Central Methodist University have been announced this month, with senior Precious Kamudzandu once again leading the organization.
A nursing major from Kansas City, Kamudzandu also participates in CMU's College Democrats.
"My favorite thing about AASU is all the new faces we get to meet," she said. "I also enjoy meeting all the new, diverse personalities that AASU brings."
Joining Kamudzandu on the executive team will be La'Kiah Wilson as vice president. Also a member of the class of 2021 and native of Kansas City, Wilson is majoring in criminal justice and political science. Aside from AASU, her campus involvement includes Civic Engagement, College Democrats, Mock Trial, Student Government Association (student life chair), and Metaphysical Club (secretary).
"One thing I love about being a leader of AASU is that it allows me to spread knowledge and understanding to my fellow peers," said Wilson.
Chely Stratton, a junior biology (pre-med) major from Kansas City, will be this year's secretary. Stratton is also involved with the chapel bands, Alpha Epsilon Delta, Beta Beta Beta, and College Democrats.
"My favorite thing about being a leader with AASU is the many opportunities that I have to learn from people with diverse backgrounds, as well as helping create a safe space to voice opinions and foster a welcoming community within this campus," said Stratton.
This year's treasurer for AASU is Martina Florido, another senior from Kansas City. In addition to her AASU role and majoring in political science and comparative religion and philosophy, Florido serves as the Metaphysical Club president, Mock Trial team captain, and College Democrats communications director and legislative agenda executive.
"The most rewarding part of being a leader with AASU is the emphasis placed on diversity," Florido said. "Diversity enriches communities by producing a plurality of opinions based on differing perspectives. Thus, AASU highlights that diversity is a vital component of a strong campus community."
Rounding out the executive team as this year's public relations representative is Marchya Jackson. Jackson is a senior from Salisbury, Mo. She is majoring in sociology.