Central Methodist University's newest Student Government Association officers have an unprecedented task ahead of them in promoting student involvement while navigating a pandemic. But Shannon Peters and Amy Blair are up to the task.
Peters and Blair were selected as SGA president and vice president, respectively, in the spring and are now hard at work preparing safe and engaging activities for their fellow students.
Peters, a senior biology major from Waverly, Mo., called her position as president "a huge responsibility but a very big honor."
"It's my best opportunity to really have a voice and make a difference here on campus," she said. "It would be great to look back and see that I accomplished something or that I offered something to the school that future students can appreciate years down the road."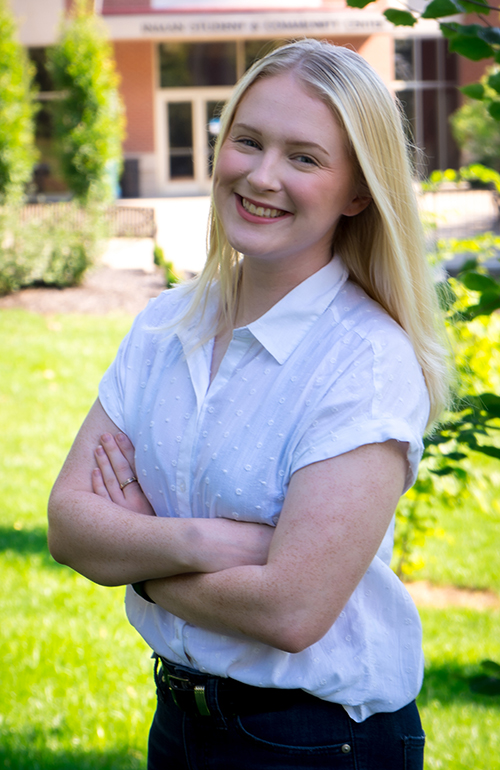 Blair, a junior majoring in biology and hailing from Maywood, Mo., also is excited to begin her stint as vice president, as she believes student government is a perfect segue into her goals of bringing empathy and compassion into real-world politics.
"I have always had a heart for community service and also the political side of things," she said, adding, "I have always loved Fayette and treasure the experiences I have had here so far, and being a part of bringing that to a new group of students is amazing."
Both officers are active on campus aside from their roles within SGA. Peters is in her fourth year as a varsity volleyball player and has been a member of Theta Chi Epsilon, Alpha Epsilon Delta, Beta Beta Beta, Champions of Character, and the Heart Athlete Student Association. Blair serves as a residential assistant in Holt Hall and is a member of Zeta Psi Lambda.
As for their goals within SGA this year, both agree that providing "a sense of normalcy" is one of the most important things they can do for their fellow students.
"We're going to try to make this school year as normal as we can and make it a good experience for people," said Peters. "I know we're encouraging people to stay [socially] distant, but at the same time we want to encourage people to be active on campus while also being safe. It's a hard balance to find, but I'm hoping we can figure out some ways to do that throughout both semesters."
The Student Government Association meets every other Wednesday at 7 p.m. Students may email Blair at
ablair@centralmethodist.edu
for more information on how to get involved.