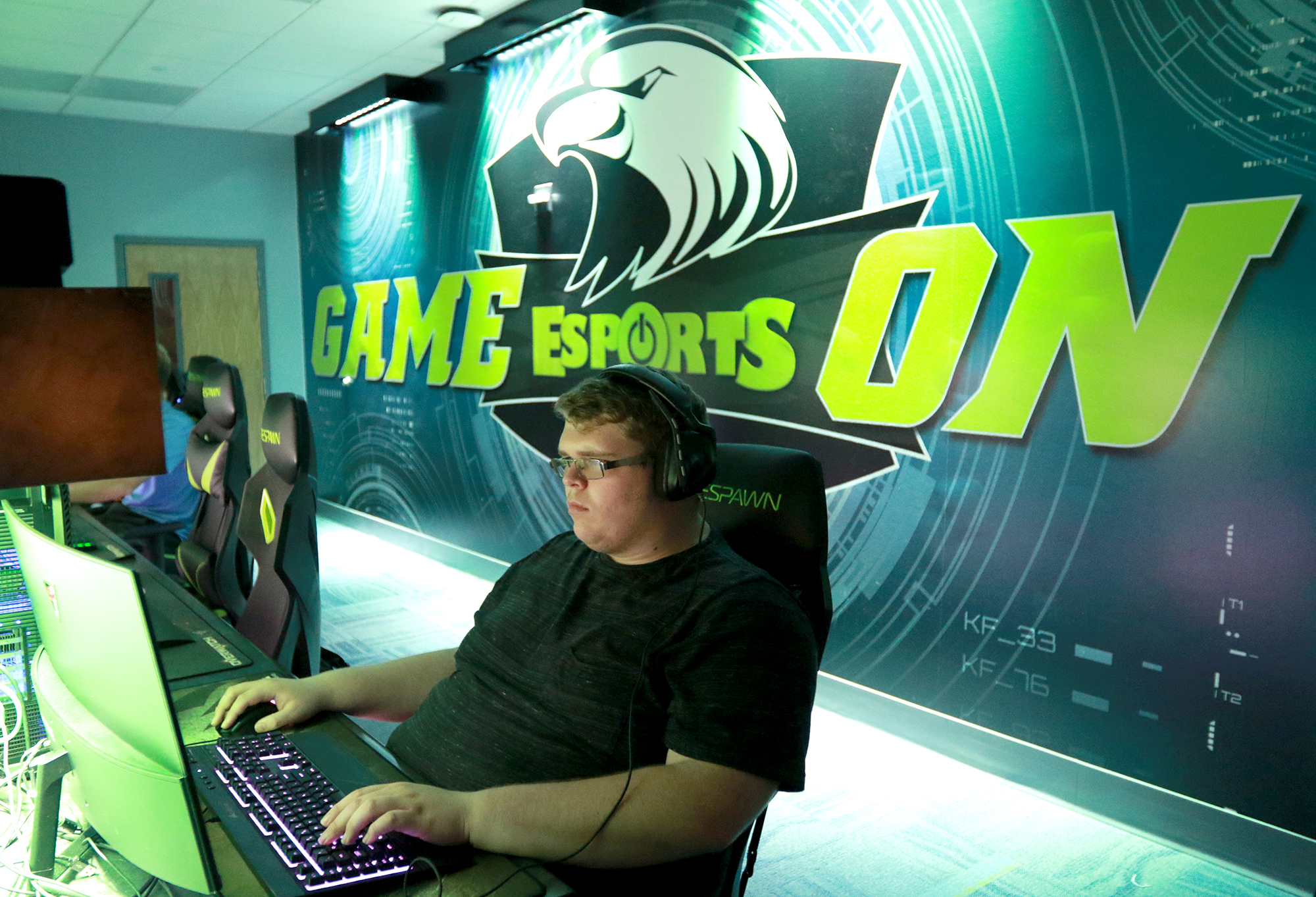 The Central Methodist University Esports team began humbly, with just 10 recruits in its first year of competition in 2018. Only two years later, the team has grown so much that it has had to expand its special facilities – twice.
The team begins the 2020 fall season with 54 athletes on the roster, spread over six online games for competition – Hearthstone, Fortnite, League of Legends, Overwatch, Rainbow Six Siege, and Rocket League. In his second year as the head coach of the Eagles, Aaron Shockley says he identifies a number of factors that have contributed to the team's rapid growth.
"First and foremost is our recent success, having reached 10 playoff appearances, three national rankings, and one league title, which has built our reputation of competing within the collegiate realm at a high level," he said. Under Shockley's leadership, the program finished the 2019-2020 season with an overall record of 61-62, securing an undefeated League of Legends campaign for an ECAC Gold Division League championship.
Aside from the team's early success, the coach also credits the growth to the dedication of everyone involved and the relationships they've formed with high schools in the recruiting process.
"I will be the first to say it takes more than a coach to grow a program to this magnitude and success," said Shockley. "It takes countless hours of our coaches, players, and entire enrollment management department to successfully achieve recruiting metrics and achieve success in matches."
The Esports athletes aren't just finding success in competition, however. As a program, they have earned a total of 40 All-Academic awards, reflecting the students' dedication to succeeding in the classroom.
"I instill in the Esports players from the first meeting that academics will be our focus and Esports second," Shockley said. "Having the amazing resources here at CMU – the Center for Learning and teaching, the amazing tutoring staff, and the dedicated professors – fosters an academic culture that our Esports players buy into when they attend our university."
Shockley says the players are allotted study hall ours in addition to their regular game training, as well as weight training and other wellness activities to make sure they are "focused and ready" to compete.
In a world gone virtual due to the need for social distancing, Shockley's team has something of a leg up over other sports on campus that have seen big changes to the way their practices and competitions are run.
"I think this is a prime time for Esports to get a bigger push in the collegiate scene due to the fact that even if universities decide to go virtual, this allows Esports teams and universities to still have engagement with their student life to cheer on a team," he said. "I also think this will allow more students who are unsure what Esports is to have a better understanding of how much time and effort these players put into their game to compete at such a high level."
While more traditional sports are restricted to playing certain competition, often within their own division or conference, Esports teams are able to compete against anyone, something Shockley sees as a great opportunity for small programs to level the virtual playing field with bigger universities.
The Central team is well on its way to doing just that, but Shockley isn't one to settle with what has already been done.
"We've had a great start, but we aren't satisfied as a coaching staff, players, or administration until we have continued success year in and year out, in the classroom as well as in the competitions," he said. "I feel we are on the verge of breaking through into the next level of competition with all our teams, and I am excited to be a part of this journey with these coaches and players.
Follow the Eagles in competition on Twitch at twitch.tv/cmueagles.