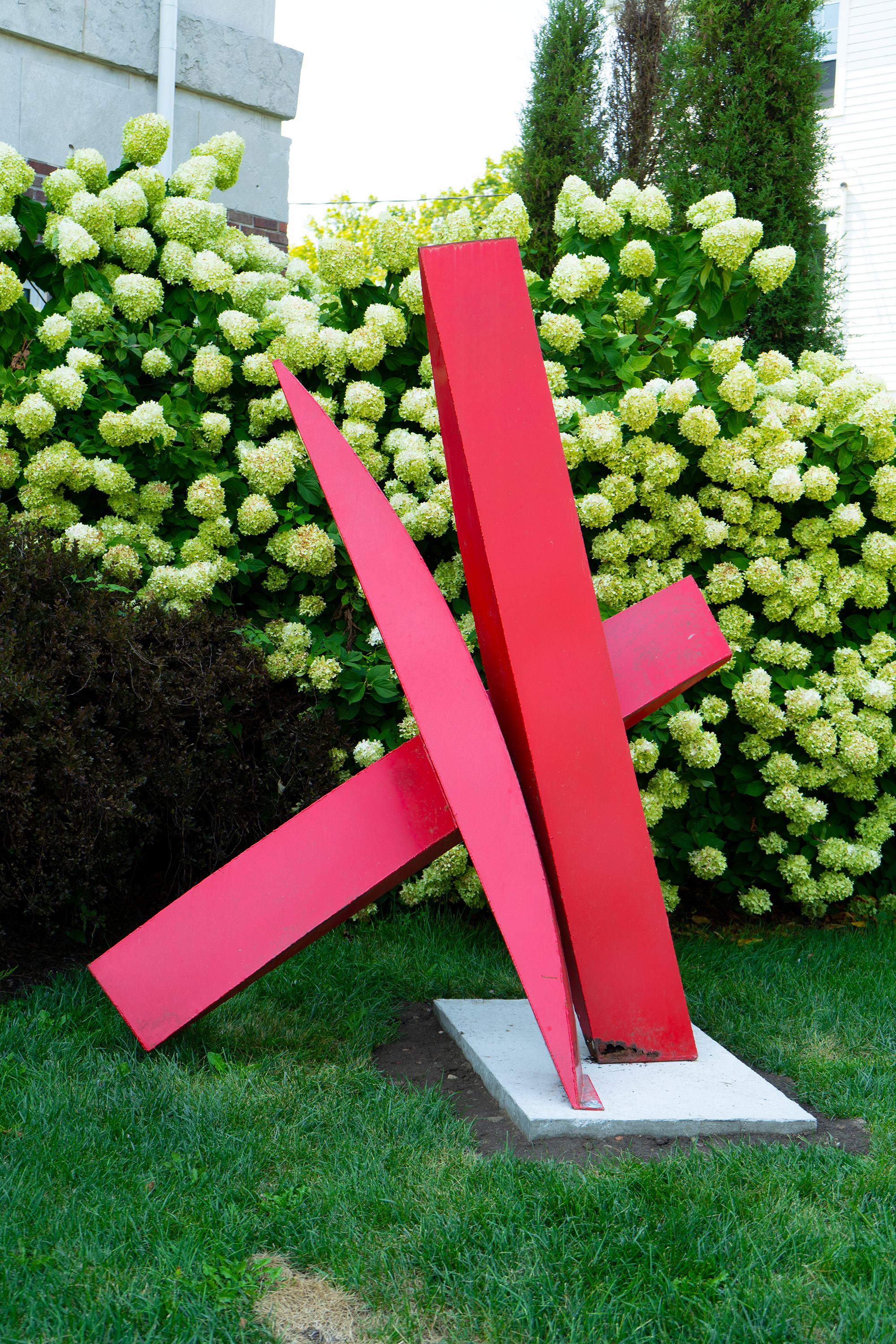 The sculpture garden outside Central Methodist University's Classic Hall just added a new piece of art to its collection. Vianney Red, a 1989 abstract sculpture by Brother Mel Meyer, S.M., has been donated to the Ashby-Hodge Gallery of American Art by the previous owners, Jack '60 and Gail Jones.
The sculpture is the second piece by the late Brother Meyer to be featured in the garden, joining another painted steel work known as King and Queen. The pieces are just two of the more than 10,000 works Meyer created throughout his career.
Born in 1928, Meyer became a brother in the Catholic Community of the Society of Mary, the Marianists, in 1949. He became a full-time artist in 1960, and later opened his studio on the campus of Vianney High School in Kirkwood, Mo., from which the new sculpture gets its name.
Following Meyer's death in 2013, the Ashby-Hodge Gallery was bequeathed a number of his works, including the King and Queen sculpture, six acrylic paintings, and eight watercolors.
Prior to its arrival on campus last month, Vianney Red spent many years at the Jones family home. When the family made the decision to move and were not able to bring the sculpture with them, they decided to donate the piece in honor of Earl '61 and Sunny Bates. Jack and Earl are longtime friends, having gone to high school and Central together.
The sculpture garden can be viewed at any time, while the rest of the Gallery, including the current exhibit "The Old and the New," is open from 1:30 to 4:30 p.m. every Sunday, Tuesday, Wednesday, and Thursday until October 11. Special tours and groups may also be scheduled by contacting the curator, Denise Haskamp, at 660-248-6304 or
dhaskamp@centralmethodist.edu
. All guests are currently required to wear face masks or coverings.