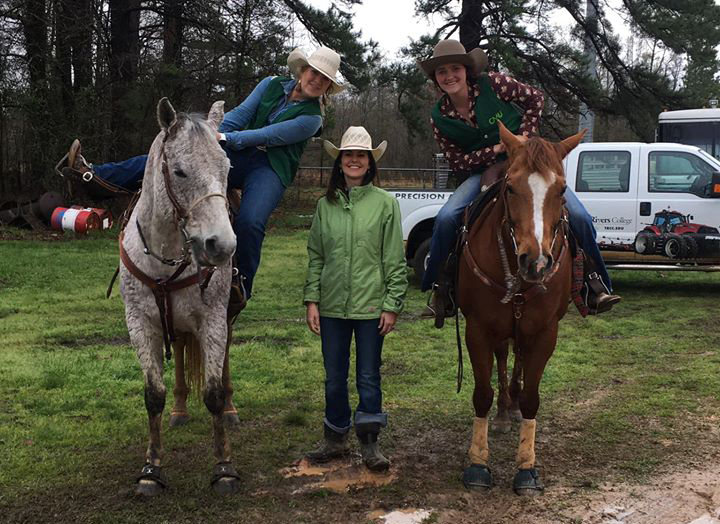 The first season of competition for the new Central Methodist University rodeo team came to an unexpected end after its most recent meet, but coach Amanda Phipps couldn't be more pleased with her team's performance this year.
"I could not be happier with our first year competing in college rodeo," said Phipps. "We had a small but fierce team."
Small indeed, the team mostly consisted of a pair of barrel racers for the majority of the season: Kelsi Haller and Alena Brach Miller. The pair wrapped up the season at a "soggy" weekend rodeo at the University of Arkansas-Monticello over the weekend of March 12-14.
The team drew times in the Friday morning slack and had to deal with a muddy arena and rain throughout the rodeo. Haller was second out of the gate on the morning, while Miller ran later. Phipps reported that both ran good patterns under the circumstances but neither finished with a fast enough time to qualify for the short round.
Phipps and the team found out later that the remaining three rodeos on their schedule – at Pearl River Community College, University of Tennessee-Martin, and Northwest Mississippi Community College – would be canceled. With the season's abrupt end, Haller finished second in the Ozark Region in points for barrel racing with 625 – enough to compete for a national title at the College National Finals Rodeo in June. As of now, the finals are still scheduled to take place.
"Kelsi worked so hard this season; she really landed Central Methodist a place on the map," said Phipps. "She is the true definition of a champ and represented our school to the max. Her academics and performance in and out of the arena defines the meaning of a true champion."
Despite the coach's obvious pride in her athletes, there is also the expected disappointment at the sudden end to the first season.
"I am saddened for the seniors and the contestants who were on the bubble and really needed to compete in the remaining rodeos to land a spot at the [finals]," she said. "It's a shame their year has ended and they didn't have a chance to qualify."
"Our country is in a crisis, and we continue to pray for the health and well-being of everyone," Phipps concluded.
The team can be followed on Facebook at Central Methodist University Rodeo.