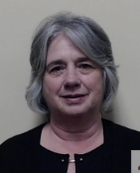 After a long stint with Conagra Brands in Macon, Angela Cloughly has started a new career as a member of the Central Methodist University staff.
Cloughly, who worked as a senior financial analyst for Conagra since 2002, started her new job as the CLAS billing specialist at CMU on February 24. At her previous job, she was in charge of handling all the financial responsibilities of the production plant.
Cloughly, formerly of Slater, earned her bachelor's degree in accounting from Missouri Valley College. She later received an MBA from Columbia College.
She currently lives in Glasgow and enjoys being active outside and working on her century-old home. A mother of two grown children – Savannah and Paden – she also spends time outside of work upcycling furniture with her daughter.