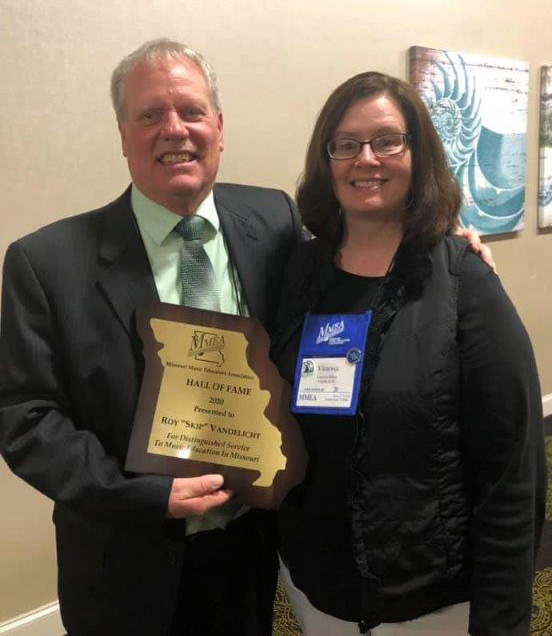 With decades of teaching music, numerous awards, and countless leadership offices to his name, it may seem to some that the induction of Professor Roy "Skip" Vandelicht, '77, into the Missouri Music Educators Association (MMEA) Hall of Fame was overdue.
Vandelicht is not one of them. For Central Methodist University's director of bands and associate professor of music, his induction was a bit of a surprise.
"Skip's a very humble person," said Vanessa Miner, '92, who nominated Vandelicht for induction, "so he was very surprised even after all he's done for the community, for the state."
Vandelicht was one of two inductees at this year's iteration of the annual MMEA Conference on January 24 at Tan-Tar-A Resort. His nomination was accepted unanimously by the selection committee.
"It's a great honor, and for me it was quite unexpected," said Vandelicht. "Professionally, this is probably the greatest honor I could receive because it's based on what I've achieved over my career being a music educator."
What he has achieved includes an almost endless list of awards and recognition for his bands and performers under his direction, but also a legacy of high-quality music education in a small-town setting. Miner, who worked with Vandelicht during part of his 31 years at Fayette High School, saw that as one of the most important aspects of his career achievements.
"It was so nice to see somebody [honored] who stayed in a rural area his whole career," she said. "He chose to stay here, and I think sometimes people forget what happens in small towns."
Marvin Manring, '85, one of three other CMU alumni to submit letters of recommendation to the selection committee on Vandelicht's behalf, agreed.
"Skip's Fayette High School bands were renowned throughout the state for energy, excitement, and exceptional musicianship throughout his tenure," Manring wrote. "His groups provided the model for countless generations of music educators. . . in the heart of the state."
CMU Division of Fine Arts chair and associate professor of music Dr. Dori Waggoner, '92, also recognized Vandelicht's legacy of inspiring music educators in her letter of recommendation.
"Music education in Missouri is strong because we have mentors and leaders who are willing to go the extra mile for students. Skip is a wonderful example of this type of person," she said. "There seems to be a cycle of service that continues to grow as his career progresses."
"I challenge you to find any instrumental educator in our state that hasn't been influenced by Skip on some level," wrote Keith Ruether, '86. "Our state has had so many world class music educators, but I can't think of any that are more deserving of this [honor] than Prof. Vandelicht."
For Vandelicht, being nominated and recommended by his Central family was one of the most special aspects of the whole experience.
"It really goes to the fact that this place means a lot to everyone who's gone to school here," he said. "We're all very close and have a great relationship with this place."
Vandelicht received the Carolyn and Tad Perry Fellow Award from CMU in 2014. He and his wife, Melody, reside in Fayette.