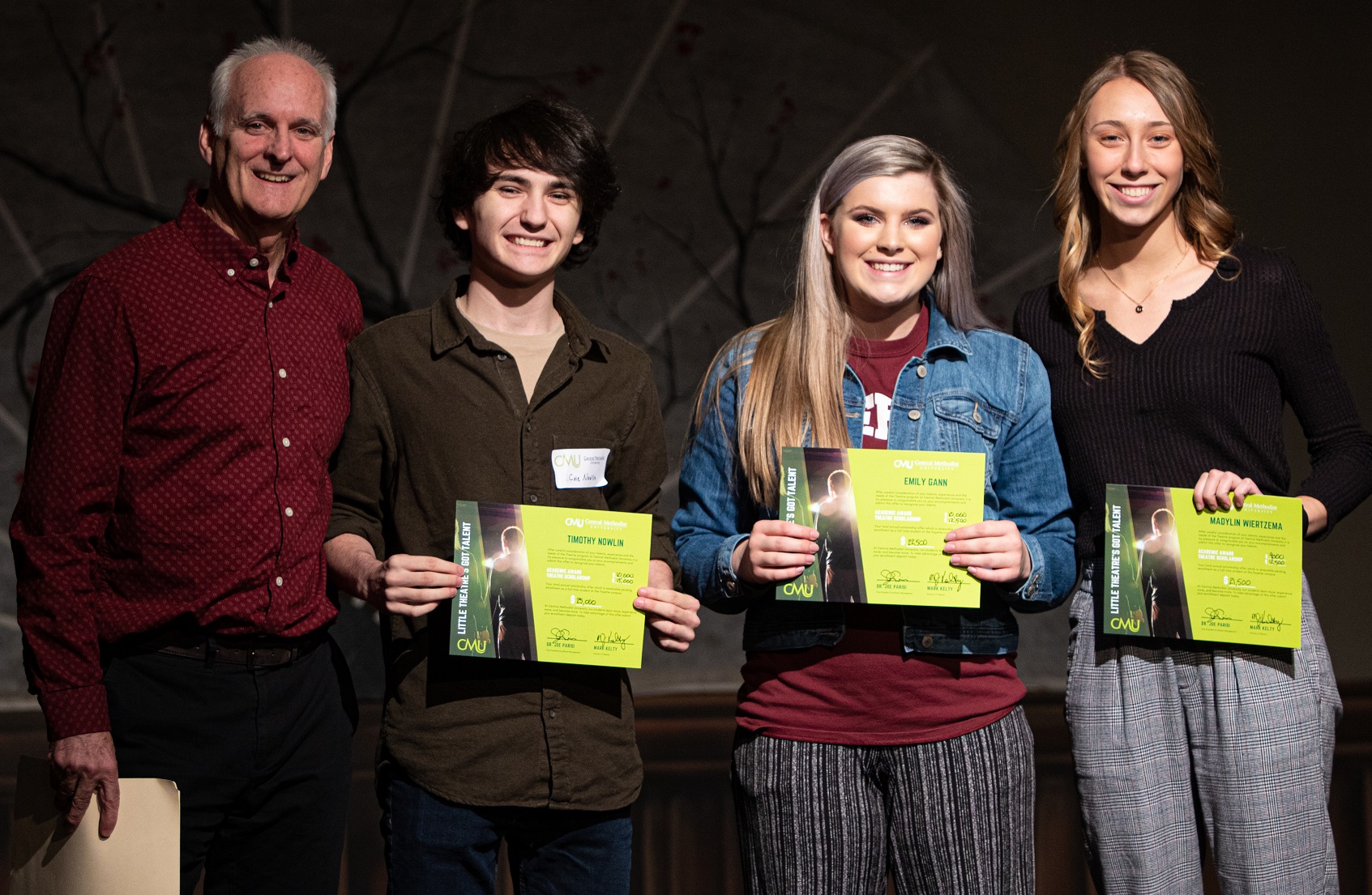 Central Methodist University awarded scholarships to a handful of gifted performers on Friday, February 14, as the Little Theatre's Got Talent competition was held.
While all competitors went away with scholarships, the biggest prize of the day was won by Cole Nowlin of Centralia.  In his 10-minute performance slot, Nowlin performed a monologue as Jay from Lost in Yonkers and sang "Put on a Happy Face" from Bye Bye Birdie.
Other performances included a pair of monologues from Our Town and A Chorus Line by Isabella Herman of Grain Valley, a monologue from Selfie and rendition of "Who Needs Love" from Ever After by Madylin Sue Wiertzema of Strafford, and monologues from The Importance of Being Earnest and Les Miserables by Dale Dowse of Urich. Also performing was Harley Dohrman of Slater, who gave a monologue from Our Town and sang "Wandering" from High School Musical, and Emily Gann of Lake Saint Louis, who sang "Watch What Happens" from Newsies and staged a monologue from Radium Girls. Poppy Garner of St. Charles rounded out the talent with a presentation on her designs for Angels in America.
Dr. Mark Kelty, professor and director of theatre, and others who helped with the competition were impressed with the skill and enthusiasm of all the performers.
"As a group, I think they are the most talented students we've seen in years," said Kelty. "I had already either worked individually with them or seen them audition at Missouri Thespians and been very impressed with their talent and how easy it is to work with them."
Following the auditions, the contestants had lunch together in the dining hall and then wrote an essay based on the prompt, "How can or does theatre affect positive change in the world?" After a tour of campus, they met back at the Little Theatre for announcements.
In addition to Nowlin, Gann and Wiertzema were announced as the top three contestants, but Kelty praised the group as a whole after seeing how the students interacted throughout the day.
"I was impressed with the immediate camaraderie of the contestants," he said. "During the audition phase, they all hung out in the Green Room and chatted before walking over to the Dining Hall."
It was clear from the competition that the future of theatre at Central Methodist would be in good hands with the students who auditioned.