Central Methodist University played host to some of the state's most talented young musicians on Friday, January 31, as the annual "Central's Got Talent" scholarship competition was held.
More than 20 vocalists and musicians vied for the grand prize scholarships, performing one piece of their choosing from the areas of vocal performance, instrumental, and praise band. While all competitors took home a CMU scholarship, the two top winners from the day were Dalton Myler of Lebanon and Logan King of Moberly, who each went away with a full-tuition scholarship.
Myler, who plans to major in vocal performance, performed an Italian operatic piece by Giovanni Legrenzi, wowing the judges and crowd with his booming tenor voice.
"I've been singing in choirs my whole life, but it was only less than a year ago that I started taking myself seriously as a vocalist," he said. "I've had so many experiences through music that have been life changing – some of my happiest moments are through music. I just want to better myself so that I can be that inspiration at some point."
King, who played "Fantaisie Mauresque" on saxophone, plans to major in music education and has been involved in band since sixth grade.
"The faculty were impressed with the expressiveness and technique of both winners. In fact, throughout the day we were continually impressed by all the wonderful musicians who were performing for us," said Dr. Dori Waggoner, chair of CMU's Division of Fine Arts. "We are looking forward to having all these students join the CMU Music community."
Both winners expressed their excitement over the opportunity to join that community, as well.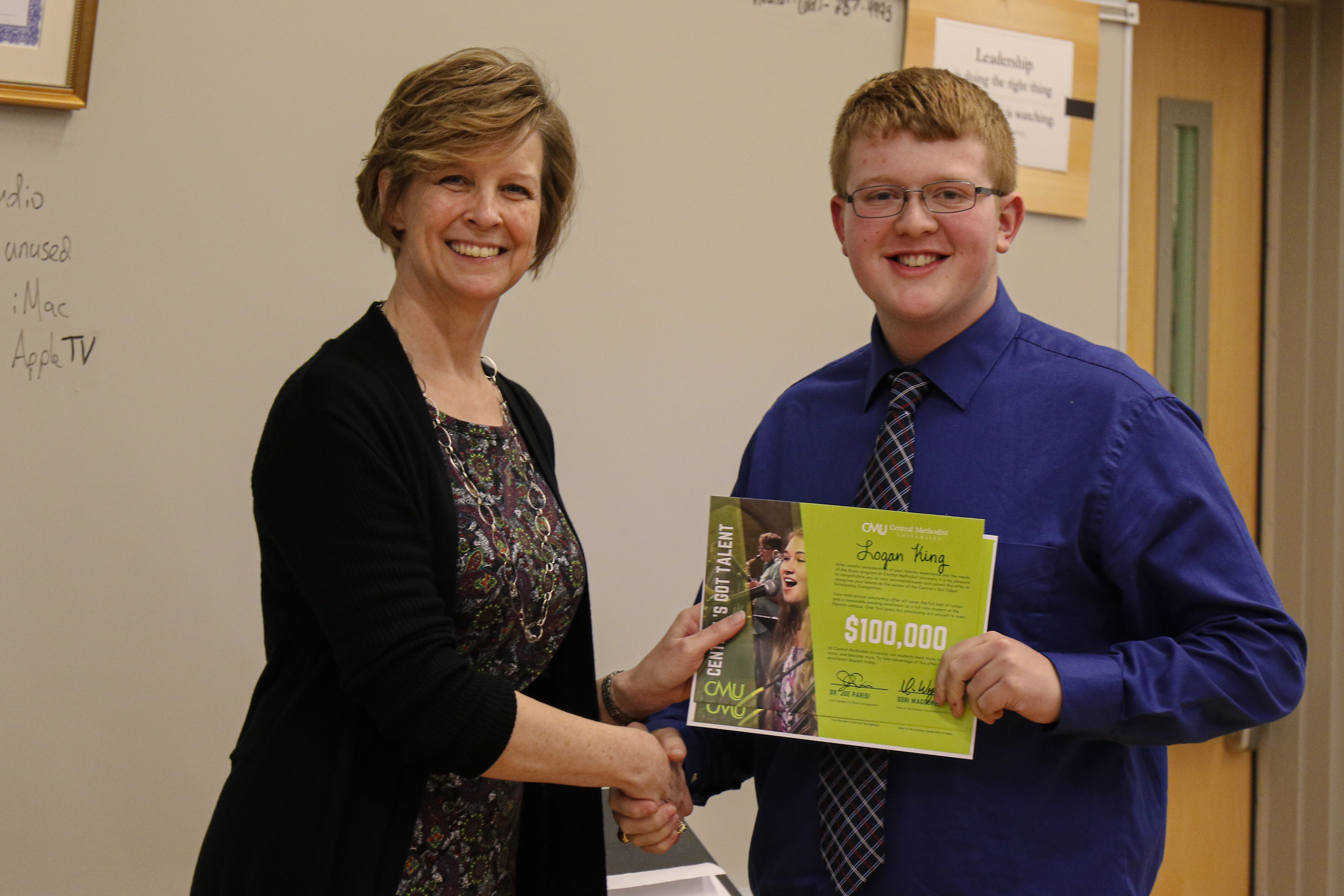 "There are a lot of good teachers here and there's a lot of closeness, a lot of friendship," said King. "It's a small-town school, and there's a lot about that that's appealing."
"I like the fact that it's a small, close-knit community," Myler agreed, adding, "I've been told nothing but great things about the music program, so I'm really looking forward to being a part of that."
Other finalists included Josh Derendinger of Boonville, Ethan McBain of Fayette, Mason Mitchell of St. Louis, and Avery Spilman of Higbee. Each of the finalists were chosen to perform their pieces a second time for the judges after the morning's preliminary trials.
Additional participants and scholarship recipients included Abigail Hicks, Amirah Kioh, Carmen Flaugher, Faith Jasper, Grace Shaw, Grady Baker, Hailey Gorman, Janai Jennings, Layla Beyer, Sarah Schuler, Sydney Dame, Taylor Meadows, Timothy "Cole" Nowlin, Trenton Kiesling, Victoria Collom, and Whitney Koenig.
See the Central Methodist University Facebook page for videos of the winners' performances.