Taylor Rumsey is a busy student.
From the moment she arrived on the Central Methodist University campus, Rumsey has been involved in just about every facet of student life. She played four seasons of volleyball, she's the president of the Student Government Association (SGA), she's a member of Kappa Beta Gamma and once was involved with Enactus. She's active in the community and at Faith Baptist Church, helping with children's ministry and participating in mission trips to help Hurricane Maria victims in Puerto Rico. She's taken at least 15 credit hours each semester of her college career, double-majoring in accounting and business administration, minoring in political science. And she's succeeded at all of it, earning a 4.0 grade point average and inclusion on the Dean's List each semester.
On top of all of that, Rumsey works part-time. At one point last year, she had three part-time jobs on top of all her other activities. Not because she has an aversion to free time, but simply because she had to.
As one of two children in college from a middle-class Missouri family, Rumsey can't rely on her parents to pay for her education in full. Even with scholarships and her part-time income – and staying "extremely conscientious" about her personal spending – she'll still graduate with debt in May.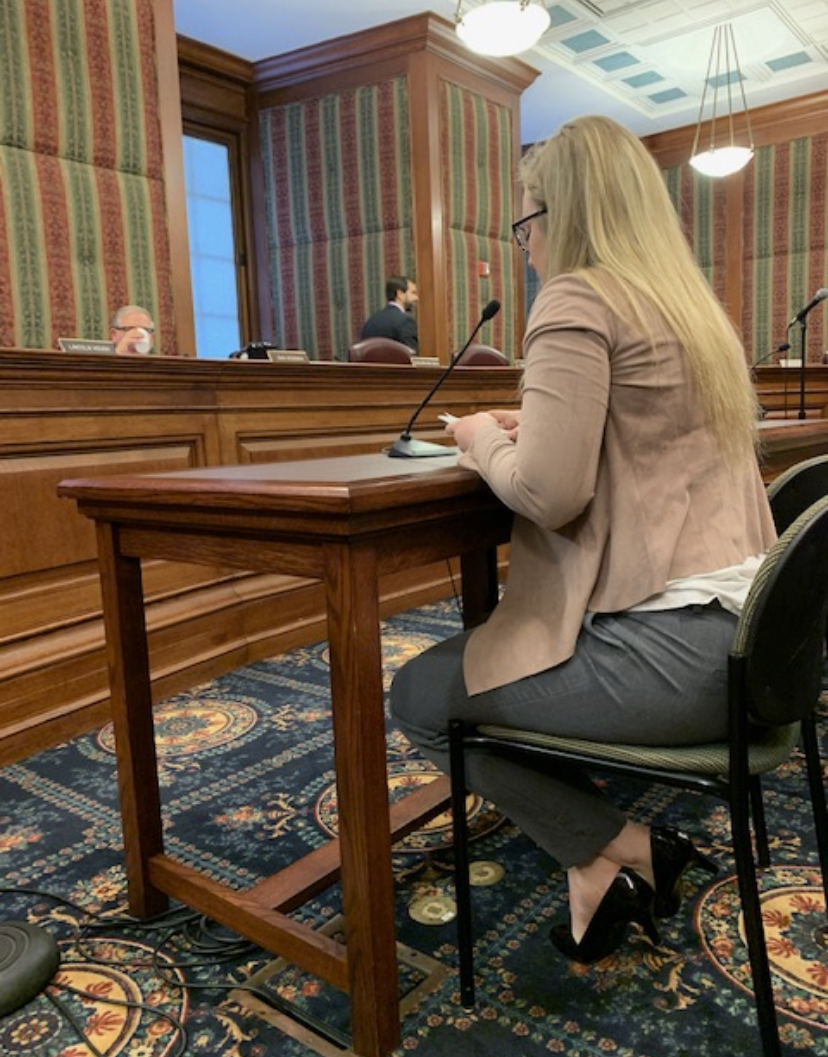 Her story, of working as hard as humanly possible and still coming up financially short, is all too familiar to so many students across Missouri. That's why she traveled to Jefferson City to testify at the Capitol twice in January, as a student ambassador for the advocacy group known as Keep Me In College.
The coalition has around 3,000 members from colleges and universities all across the state, fighting to protect scholarship funds like Access Missouri and Bright Flight. Out of all of them, Rumsey was selected to testify in front of the Senate Appropriations Committee on January 15 and again in the House committee a few days later.
The committees were considering a proposal by the Missouri Department of Higher Education and Workforce Development to increase funding for Access Missouri, the state's only need-based scholarship program. The proposal includes a multi-year phase-in plan that would eventually get students the maximum awards outlined in the statute. Currently, students with Access Missouri scholarships are only receiving 72 percent of what the statute deems the maximum, adding more potential debt for students who can't get additional help.
"Keep Me In College members understand the constraints of a tight budget, but we respectfully ask you to continue to look for ways to increase funding for need-based financial aid," Rumsey said in her public testimony. "While the employment picture is bright in our state, far too many families are still struggling. As a result, many parents simply are not able to contribute a single dollar to their child's college education."
Rumsey said it was meaningful for her to have been the one testifying on behalf of the group and to show members of Congress that this is an issue that affects so many young Missourians.
"It's something I'm passionate about," she said. "I think that Access Missouri is important to students and it's important to be the face of a group saying, 'We need this,' because it's easy to accumulate a lot of student loans."
As she now prepares for the next step of recruiting CMU students to participate in the upcoming Advocacy Day, Rumsey remembers that her interest in being more involved with the movement was sparked around the same time last year. She said Advocacy Day was cancelled in 2019 because the committees had moved up the vote to the day before. Since then, she's made it a priority to make sure lawmakers are seeing the effects of their decisions.
"It was important to show that involved students are also trying to pay for college and avoid drowning in debt [after graduation]," she said. "Students aren't just sitting around accumulating debt, they're out there working."
Rumsey believes her testimony was well-received, but it remains to be seen whether or not the legislators will prioritize the Access Missouri funding. For now, all she can do is invite other students who benefit from the scholarship to make their voices heard at Advocacy Day. Showing lawmakers that they care, showing strength in numbers, is the power that they can wield themselves.
"As you move through the budget process, I respectfully ask that you remember the financially deserving Missouri students who depend on Access Missouri," Rumsey said in wrapping up her testimony. "It's a critical investment in Missouri's citizens that continues to give them – and our state's economy – a bright future."
Students and others interested in becoming an advocate for Keep Me In College can sign up at kmic.org and follow the group on Facebook and Twitter for updates on Advocacy Day.