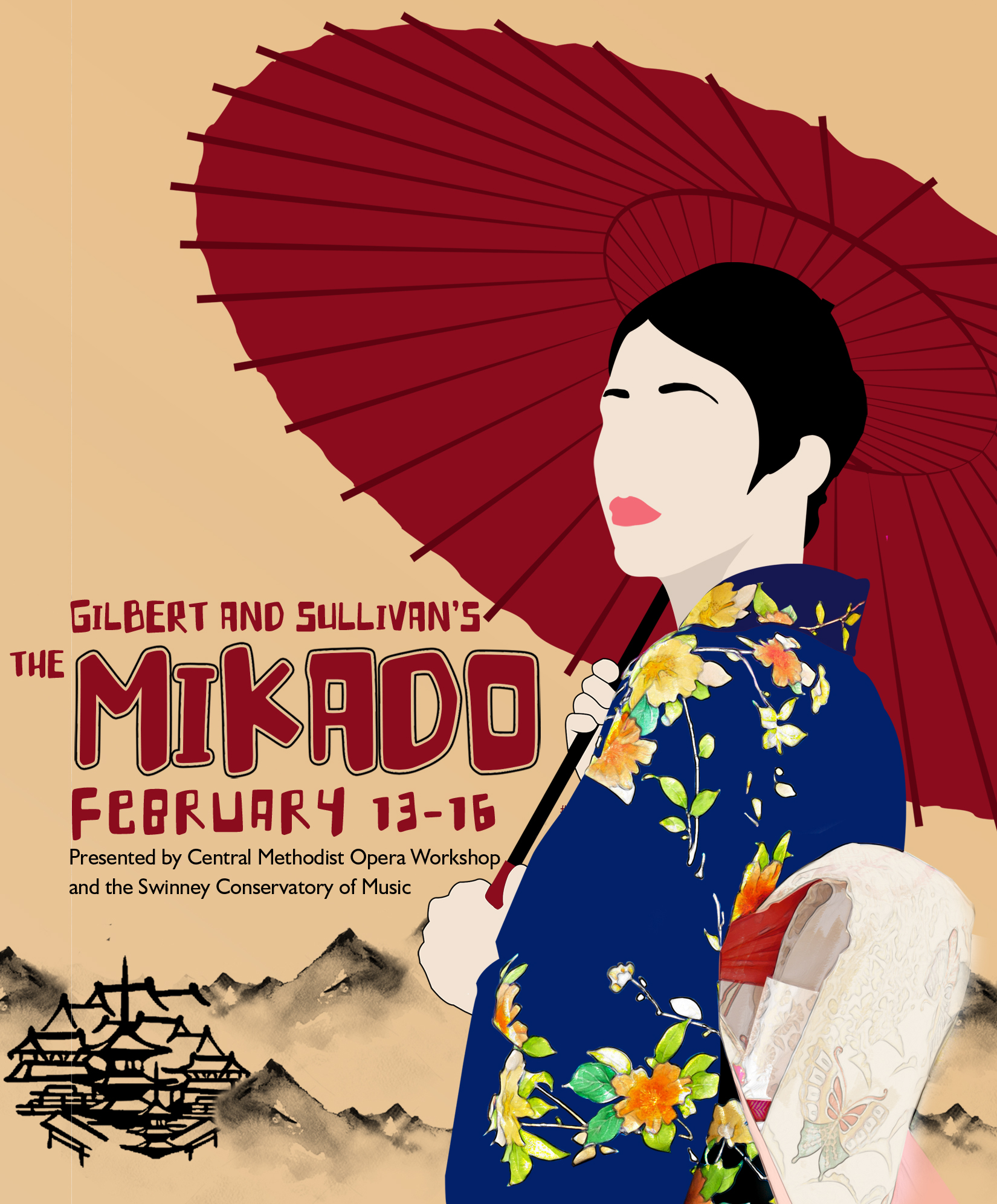 Gilbert and Sullivan's comic operetta The Mikado will soon grace the stage of The Little Theatre, as the Central Methodist University Opera Workshop presents its annual performance beginning February 13.
The Mikado, or The Town of Titipu, is a comic opera in two acts, with libretto (text) by W.S. Gilbert and music by Sir Arthur Sullivan. The famed pair's ninth collaboration, it premiered at the Savoy Theatre in London in 1885. The show eventually became the most frequently performed opera at the Savoy.
The Mikado is set in the fictitious Japanese town of Titipu. Ko-Ko, a cheap tailor, has been appointed Lord High Executioner and must find someone to execute before the arrival of the ruling Mikado. He lights upon Nanki-Poo, a strolling minstrel who loves the beautiful Yum-Yum, only to find out she is still betrothed to Ko-Ko, her guardian. Nanki-Poo, seeing no hope for his love, considers suicide. Ko-Ko offers to solve both their problems by suggesting he execute Nanki-Poo, and makes an agreement whereby Ko-Ko will allow Nanki-Poo to marry Yum-Yum for one month, at the end of which Nanki-Poo will be executed, in time for the arrival of the Mikado. However, Ko-Ko doesn't know that Nanki-Poo is the son of the Mikado and has run away to avoid a betrothal to an old harridan named Katisha. The arrival of the Mikado brings all the threads of the tale together and after some negotiations, he is reunited with his son, Nanki-Poo and his new bride, Yum-Yum.
CMU's production will be directed by Dr. Susan Quigley-Duggan, professor of voice and opera, and accompanied by collaborative pianist Mary Jane Nance. Costumes are created by Terri Rohlfing, set design is by assistant professor Lonna Wilke, and lighting will be done by Alexia Maschmeier. A small pit orchestra includes Mikaela Lewis and Dominique Jordan on flute, Matthew Johnson and Alex Autry on clarinet, Dr. John Perkins and Fayette musician Jeff Miner on trumpet, and Crystal Kimmi on percussion.
The Opera Workshop's cast of 21 is comprised of undergraduate music and theatre majors from freshmen to seniors and includes a Fayette High School voice student. Principal roles include Phillip Rob Brown as Koko, Ben Pilger as Pooh-Bah, Josh Stettes as Pish-Tush, Keaton Denney as Nanki-Poo, Cori Bryan and Marissa Dickman as Yum-Yum, Taylor Graham as Pitti-Sing, Rachel Martin and Hailey Sage as Peep-Bo, and Ethan McBane (FHS) as Go-To.
The role of Katisha will be performed by KeKona Asi, and the role of the Mikado will be performed by Dr. Claude Westfall, associate professor and Director of Choral Activities. Other cast members in the ensemble include Kate Anderson, Samantha Reid, Benjamin Kixmiller, Addyln Gabriel, Eleanor Grace Hartford, Tres Hampton, Connor Sanchegraw, Ian Schmidt, Zach Barnes, and Carli Rohlfing.
The show will run at The Little Theatre at 7:30 p.m. from February 13 to 15, with a matinee on Sunday, February 16 at 4 p.m. Tickets can be reserved by calling 660-248-6317 and are available at the door. General admission is $7, $5 for seniors/faculty/staff, and $2 for students with ID at the Thursday performance.