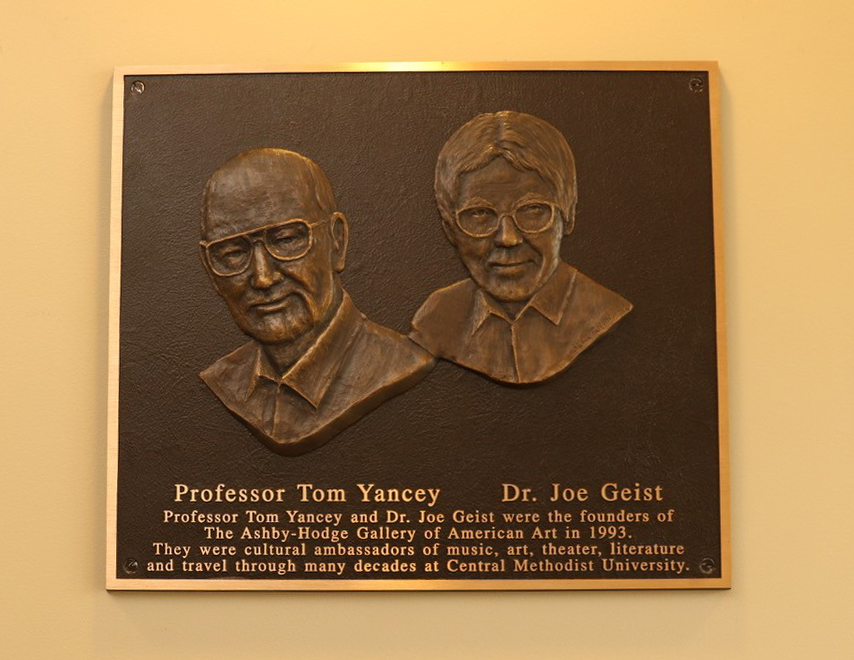 With the closing of the most recent exhibit on November 14, the Ashby-Hodge Gallery of American Art will soon begin the transition to its next collection to begin in January. But first, visitors will be able to check out student art and a new addition to the foyer of Classic Hall.
Central Methodist University students' photography and drawing class art will be on display from December 2 through December 12, from 1:30 to 4:30 p.m. each day (excluding Saturday, December 7).
The gallery will also be holding its Christmas sale during the same time period. All are welcome, and gallery management promises "something for everyone" to be found.
In the meantime, visitors to the gallery can view a special new addition to the permanent collection.
Stemming from an idea by Earl and Linda Bates and CMU President Roger Drake, a relief sculpture of Tom Yancey and Dr. Joe Geist now hangs in Classic Hall, paying homage to the gallery founders.
Cast in bronze by Columbia sculptor Sabra Tull Meyer, the plaque weighs more than 50 pounds and features an inscription honoring the legacy of Yancey and Geist. Meyer is a world-famous sculptor, perhaps best known in Missouri for her Lewis and Clark Monument outside the state capitol building in Jefferson City – a smaller version is on display in the gallery.
"Professor Tom Yancey and Dr. Joe Geist were the founders of The Ashby-Hodge Gallery of American Art in 1993. They were cultural ambassadors of music, art, theater, literature and travel through many decades at Central Methodist University," the inscription says.
The idea for the plaque came after Yancey's death in February. The Bates family commissioned the work, which was done based on a photo of the two men. The plaque was installed in October, during the week of homecoming.
It currently hangs between two of Yancey's own works, featuring Geist and himself.
The gallery is open from 1:30 to 4:30 p.m. on Sunday, Tuesday, Wednesday, and Thursday, closed on holidays. For special tours or to confirm hours, call 660-248-6304 or email Denise Haskamp at dhaskamp@centralmethodist.edu.