The annual Harold Momberg High School Math and Science Competition brought more than 60 high school students to the Fayette campus of Central Methodist University on Tuesday, November 5.
Students from 11 high schools in the region participated in a knowledge competition and performance event throughout the morning. In the first part of the competition, students answered questions involving the subjects of chemistry, biology, physics, and math. Then, each team of three was required to construct a Hoop Glider, a type of flying vehicle made from straws and paper hoops, which they were allowed to throw twice to measure the maximum distance flown.
Both portions of the competition were scored, and the winning teams were named from the groups with the top three overall scores. Each winning team was awarded a plaque, and team members were awarded scholarships of $1,000 for first place, $750 for second, and $500 for third, to be used should the students choose to attend CMU.
Winners of the top prize and scholarships in the 2019 competition included Dallin Chappell, Hunter Deresinski, and Joseph Henke from Sacred Heart School. Second-place finishers were Colby Sims, Carlos Valdez, and Addy Schmitt from Marceline High School, while the Columbia Independent School team of Mike Zhang, Erin East, and Payton Bach took home third place.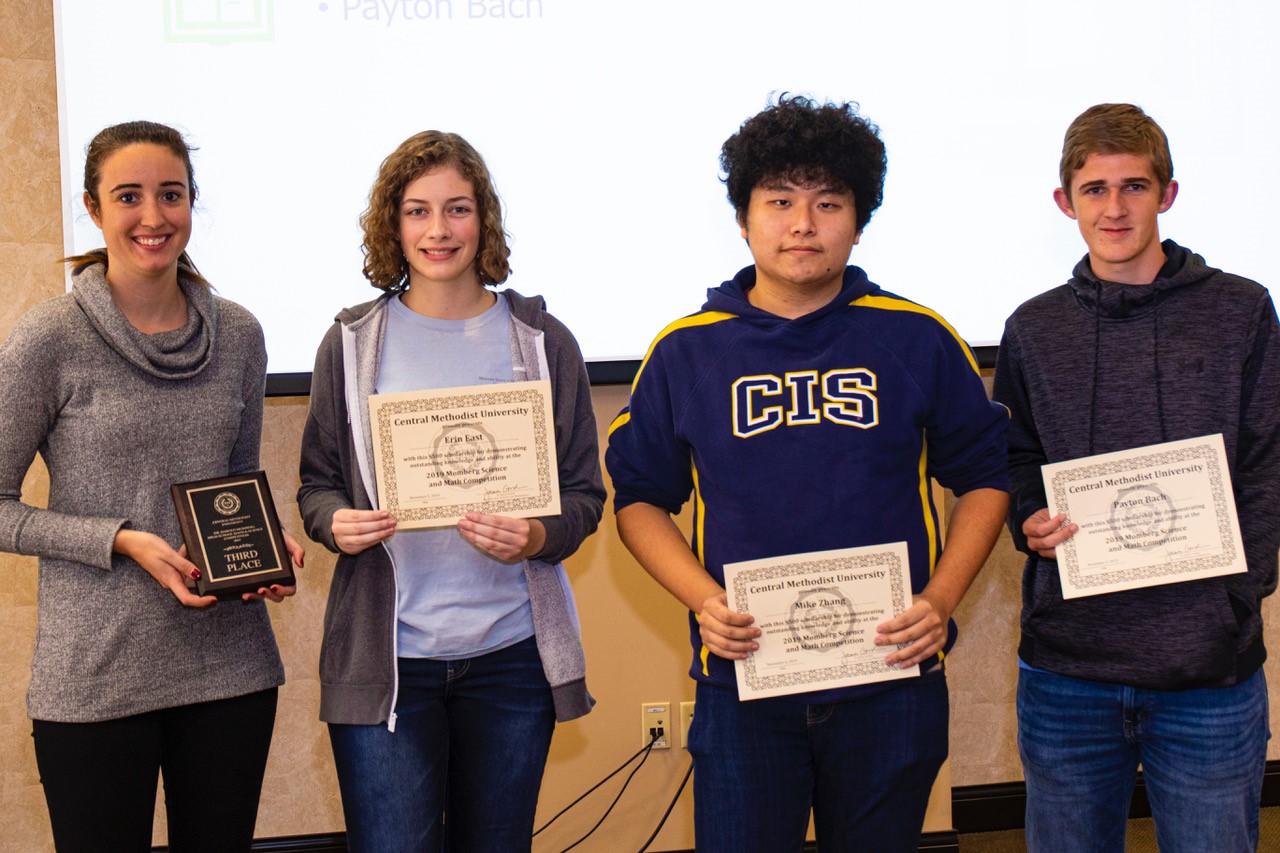 Dr. James "Tiger" Gordon, professor of chemistry and chair of the Division of Science at CMU, praised the level of competition and the talent of those involved.
"As always, it is such a pleasure to get to meet and watch these young men and women," said Gordon. "Year after year, we are impressed with the commitment of the students and with their knowledge and the ingenuity."
Gordon stressed that despite the limited number of awards given at the end of the day, all the participants were deserving of recognition.
"Winners are individuals that demonstrate traits like determination, commitment, hard work, and perseverance," he said. "All of the participants in this competition exhibit those traits and more. We couldn't be more proud of all of them and their teachers. They are all winners, and it is my sincere hope that some of the students will decide to attend CMU and give us the opportunity to work more with them."
Participating schools at this year's competition included South Callaway, North Callaway, Jamestown, Paris, Sturgeon, Columbia Independent, Sacred Heart, Marceline, Salisbury, Slater, and Glasgow.