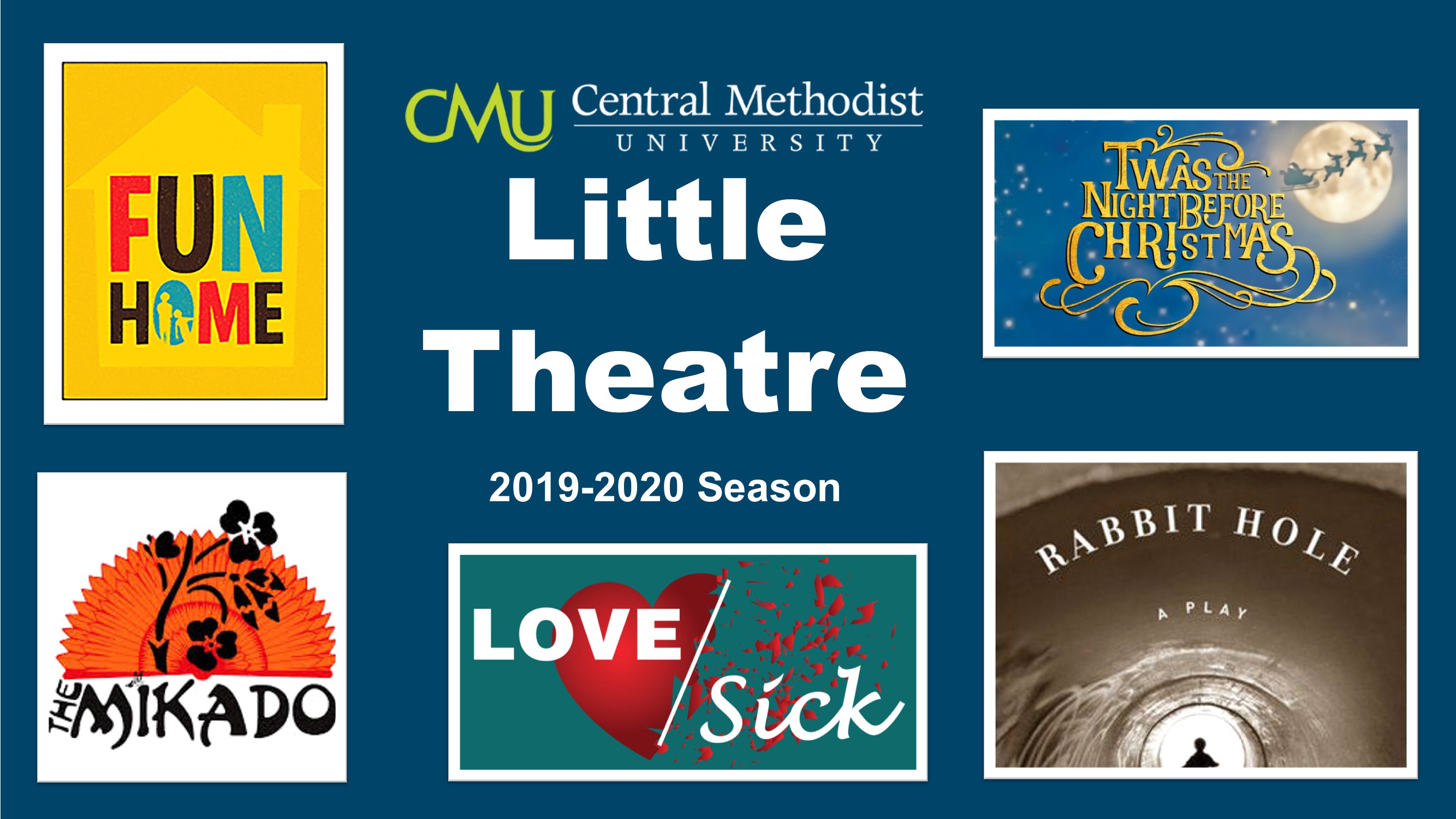 Every autumn brings a new adventure in acting at Central Methodist University Little Theatre. The grease paint goes on, the costumes are created and fitted, and the energy level goes up.

The members of the theatre department already are preparing to polish and perform this season, said Dr. Mark Kelty, head of the CMU theatre department.

Kelty already is casting students for his first play, Fun Home, by Lisa Kron, Jeanine Tesori, and Alison Bechdel.
Fun Home
When her father dies unexpectedly, graphic novelist Alison dives deep into her past to tell the story of the volatile, brilliant, one-of-a-kind man whose temperament and secrets defined her family and her life. Performance dates are October 3 at 4:30 p.m.; October 4 and 5 at 7:30 p.m.; October 6 at 1:30 p.m. MATURE AUDIENCES
'Twas The Night Before Christmas
The annual play for mid-Missouri schoolchildren will run Nov. 13-17 with students bused in from numerous districts around Fayette. The play will be 'Twas The Night Before Christmas by Ken Ludwig. Don't miss this joyful tribute to the holiday season! School day matinees on November 13-15. Public performances on November 16 at 7:30 p.m. and November 17 at 1:30 p.m.
The Mikado
The music department has tentatively scheduled an opera, The Mikado, will be performed  February 13-15 at 7:30 p.m. and February 16 at 1:30 p.m. This hysterically funny tale by W.S. Gilbert and Arthur Sullivan is of a wandering minstrel who falls in love with the beautiful ward of the Lord High Executioner of Titpu. The music department opera production is not part of The Little Theatre subscription series.
Love/Sick
CMU alum Myriah Araiza will direct Love/Sick March 5 at 4:30 p.m.; March 6-7 at 7:30 p.m.; and March 8 at 1:30 p.m.  in the Little Theatre. A darker cousin to his Almost, Maine, John Cariani's Love/Sick is a collection of nine slightly twisted and completely hilarious short plays. Set on a Friday night in an alternate suburban reality, this 80-minute romp explores the pain and the job that comes with being in love. MATURE AUDIENCES
Rabbit Hole
The final play of the year is David Lindsay-Abaire's Rabbit Hole. Becca and Howie Corbett have everything a family could want, until a life-shattering accident turns their world upside down and leaves the couple drifting perilously apart. MATURE AUDIENCES
The cost of attending the main theatre events is $8 for adults; $5 for CMU faculty and staff; and free for CMU students with ID. Reservations can be made anytime at 660-248-6281.