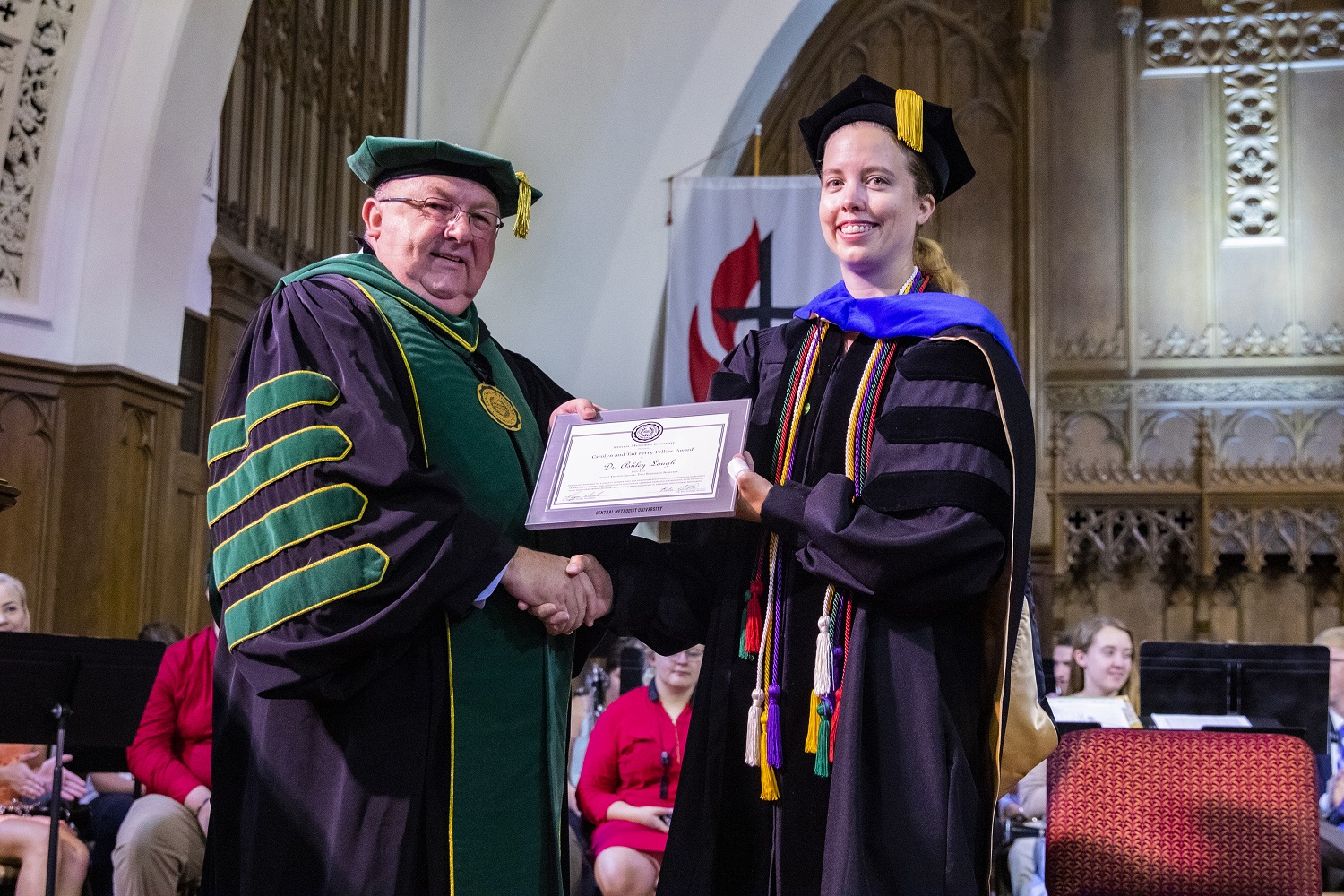 The event that officially heralds the beginning of the academic year at Central Methodist University is Convocation, which took place on Thursday, August 22, 2019.
The event welcomes all students to CMU, especially new freshmen who are just embarking on their college adventure. Additionally, Convocation honors several students and a professor who have exhibited outstanding work from last year.
This year, five students were recognized –Fernando Jimenez, Blessed Kisakye, Mitchell Crofton, Madalyn Bartholomew, and Marius Uunvik.
The Kim Everett Outstanding Freshman Award went to Crofton, from Springfield, IL. It goes to a male student who demonstrates a genuine concern for CMU, diverse involvement on campus, leadership, active concern for fellow students, and academic scholarship. Crofton is a sophomore and is majoring in music ministry. The Kim Everett Award was established in memory of a Central student who served as president of his freshman class, but who died in a tragic accident at the beginning of his sophomore year.
Kisakye was honored with the E.E. Rich Award. It is given to the female student judged the most outstanding in scholarship and leadership. Kisakye is from Kampala, Uganda. She is a sophomore and is majoring in biology.
The Omicron Delta Kappa (ODK) Outstanding Freshman Leadership Award was given to Unnvik. It is presented to an outstanding student who demonstrates campus leadership. Recipients are nominated by the faculty and selected by the members of ODK. Unnvik is from Kleppesto, Norway, and is a sophomore majoring in psychology.
Jimenez, a Columbia, MO native, was awarded the Demaree Prize. This honor is given to the freshman student with the highest scholastic average from the prior year. Jimenez is a freshman majoring in elementary education.
Bartholomew, from Salisbury, MO, was awarded the Tau Kappa Epsilon Outstanding Freshman Award. The award is presented to a female student in good academic standing who exemplifies dedication, involvement, and commitment to the mission and goals of CMU. Bartholomew is a sophomore majoring in music education.
In addition to the student awards, one special honor is bestowed on a faculty member during Convocation. The Carolyn and Tad Perry Fellow Award was established in 2012 by the current chair of the CMU Board of Trustees, Dr. Tad Perry, and his wife, Carolyn. It honors a faculty member who has gone the extra mile for Central students and has shown a commitment to student experiences, growth, and achievement.
This faculty award was presented to Dr. Ashley Lough, Assistant Professor of Biology at Central Methodist University. Dr. Lough is a staple of the Science, Computer Science, and Math Division. Lough is well-known among faculty, staff, and Central students.
The Reverend Kayla Kelly, campus minister for Central, led the invocation and at the end of Convocation, gave the benediction.
Speakers for the event included President Roger Drake; Provost Rita Gulstad; Professor Dr. Ashley Lough, recipient of the 2018-19 Exemplary Teacher Award; and Taylor Rumsey, president of the CMU Student Government Association.