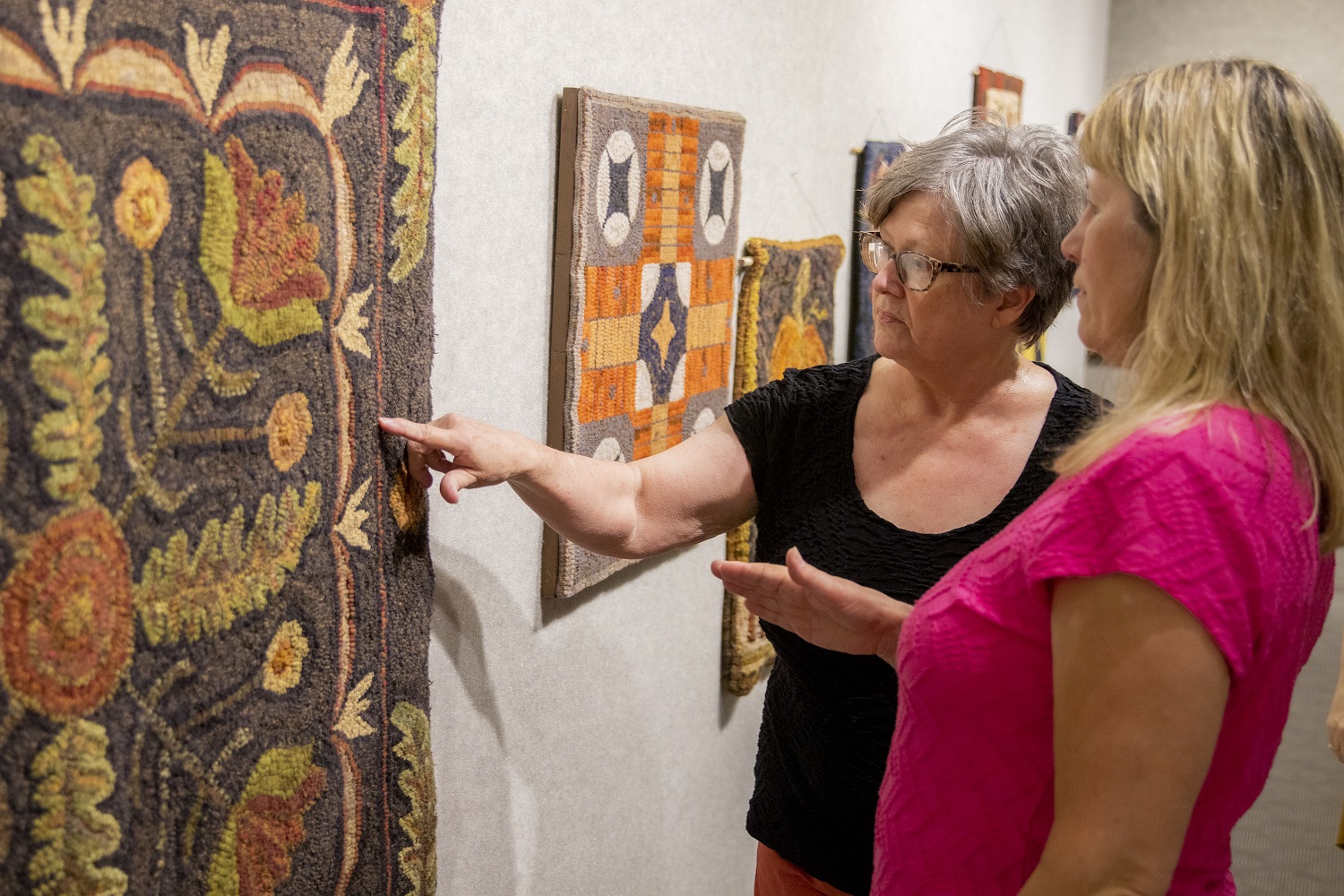 Mary Barile brought her favorite rug to display in the gallery not far from her home. It was her mother's, a piece titled "Happy Family." Mary remembers working on it as a child, dyeing the wool by hand next to her mother in the kitchen.
Mary, alongside Mindy Smith, another textile artist, will serve as co-curators of the "Hooked On Rugs" exhibit, opening at the Ashby-Hodge Gallery of American Art September 1. The collection features more than 35 hooked rugs and textiles provided by 15 artists from the mid-Missouri area.
For Mary, Mindy, and many other members of the Big Muddy Rug Hooking Guild, the art of producing a hooked rug is about preserving the craft of a true folk art across the generations. As far is known, this is the first rug hooking show in any gallery in Missouri.
"Some 'Muddies' design their own rugs, while others adapt existing patterns, using as-is and dyed wools," Guild president Barile said. "Today's rugs include new materials like handspun yarn, sari ribbon, novelty fabric, and even wire and doilies, while three-dimensional touches such as proddy, quillies, knitted edgings, and applique add texture."
In addition to featuring the works of the Big Muddy Hooking Guild in Gallery 3, Gallery 1 will showcase 35 works from the William Kountz collection, a new gift to the gallery. Artists never previously represented in the collection, such as Michael Fattizzi, Pat Hudson, Fred Conway, will be featured. Other familiar names such as Diana Huneke, Jim Miller, and Notley Hawkins will also be shown. And. for the first time ever, a work by beloved former CMU administrator, Ruth Benner Hix, will be displayed. To round out the exhibit, in Gallery 2 there will be a miscellany of works from the permanent collection.
All three exhibits will be featured in the fall show beginning September 1 and running through November 14, 2019. As is customary, the Gallery is open Tuesday, Wednesday, Thursday and Sunday afternoons from 1:30-4:30 p.m. The Gallery is always open for special groups at other times.
The opening reception for the Fall Ashby-Hodge showcase will be Sunday, September 1 from 1:30 to 4:30 p.m. in the Gallery at Classic Hall on CMU's main campus in Fayette. Many of the "hookers" will be at the reception to discuss their works.
For more information about CMU's Ashby-Hodge Gallery of American Art or the upcoming show, contact Denise Haskamp at 660-248-6304 or dhaskamp@centralmethodist.edu.