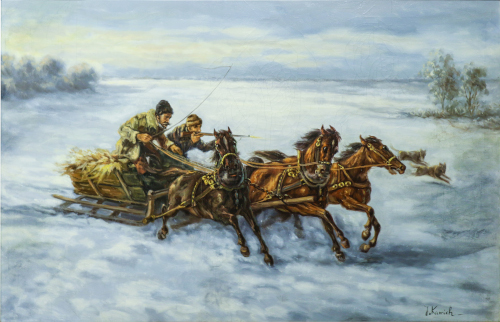 Viewers won't want to miss the Ashby-Hodge Gallery of American Art's upcoming shows, which will feature a variety of eye-catching works including impressive oil paintings by George Caleb Bingham, works by Thomas Hart Benton, and impactful, recent acquisitions never displayed at the Gallery until now.
The opening reception for "Bingham, Benton, and Friends" will be Sunday, Jan. 27 from 1:30 to 4:30 p.m. in the Gallery at Classic Hall on CMU's main campus in Fayette. The shows will run until April 11.
Central's Gallery features three main gallery showrooms. Gallery 1 will display works by Bingham, including "Stump Speaking," "Engraving of Order #11," and many portraits. In addition to Bingham's pieces, there will be three pieces by William B. Cox, as well as two by William Morrison Hughes. 
Bingham, known as "the Missouri artist," also was a soldier and politician. He was born the second of seven children in Augusta County, Va., and moved to Franklin, Missouri in Howard County when he was eight years old. 
It was in Missouri where he formed his beliefs and outlook on life, and his ties to the Mid-Missouri area ran strong. In fact, many individuals featured in his paintings are former Howard County residents and political leaders. He also was known for capturing on canvas the American frontier life along the Missouri River. 
There is not a significant amount of historical documentation on Cox, but he was a Howard County, Missouri artist. During the Civil War, records show he served as a captain with the Missouri State Guard (Confederate) and took part in the battles of Wilson's Creek and Lexington, Mo. Cox's portraits – many of Confederate leaders – are admired and sought by collectors, and can be viewed in major museums.
Hughes, one of Bingham's few known students, was born in Howard County in 1818 and died in 1892. The Hughes' family homestead, "Plum Grove," was built in 1828 near Fayette, and is still owned and occupied by the original family, according to a record from the Howard County Recorder at the Howard County Courthouse. Hughes decided to pursue a career in art while in his 20s, and soon after spent significant time studying with Bingham.
Gallery 2, the central room, will display recent acquisitions. "They have never been seen before," said Dr. Joe Geist, registrar. Pieces will include works by Walter Bailey, Peggy Guest, Duke Nielsen, and John Wehmer.
Gallery 3 will display many works by Thomas Hart Benton, and includes three originals from the Ashby Collection. 
Benton was born in Neosho, Mo. In 1934, he was featured on the cover of "Time" magazine – an honor that had never before been accorded an American artist. Benton was always connected with the movement in American art known as Regionalism, paintings of the American scene. 
Several of Benton's friends, including John Stuart Curry, John Falter, and Grant Wood, also will be featured in the gallery. 
For more information about CMU's Ashby-Hodge Gallery of American Art or the upcoming show, contact Denise Haskamp at 660-248-6304 or 
dhaskamp@centralmethodist.edu
.