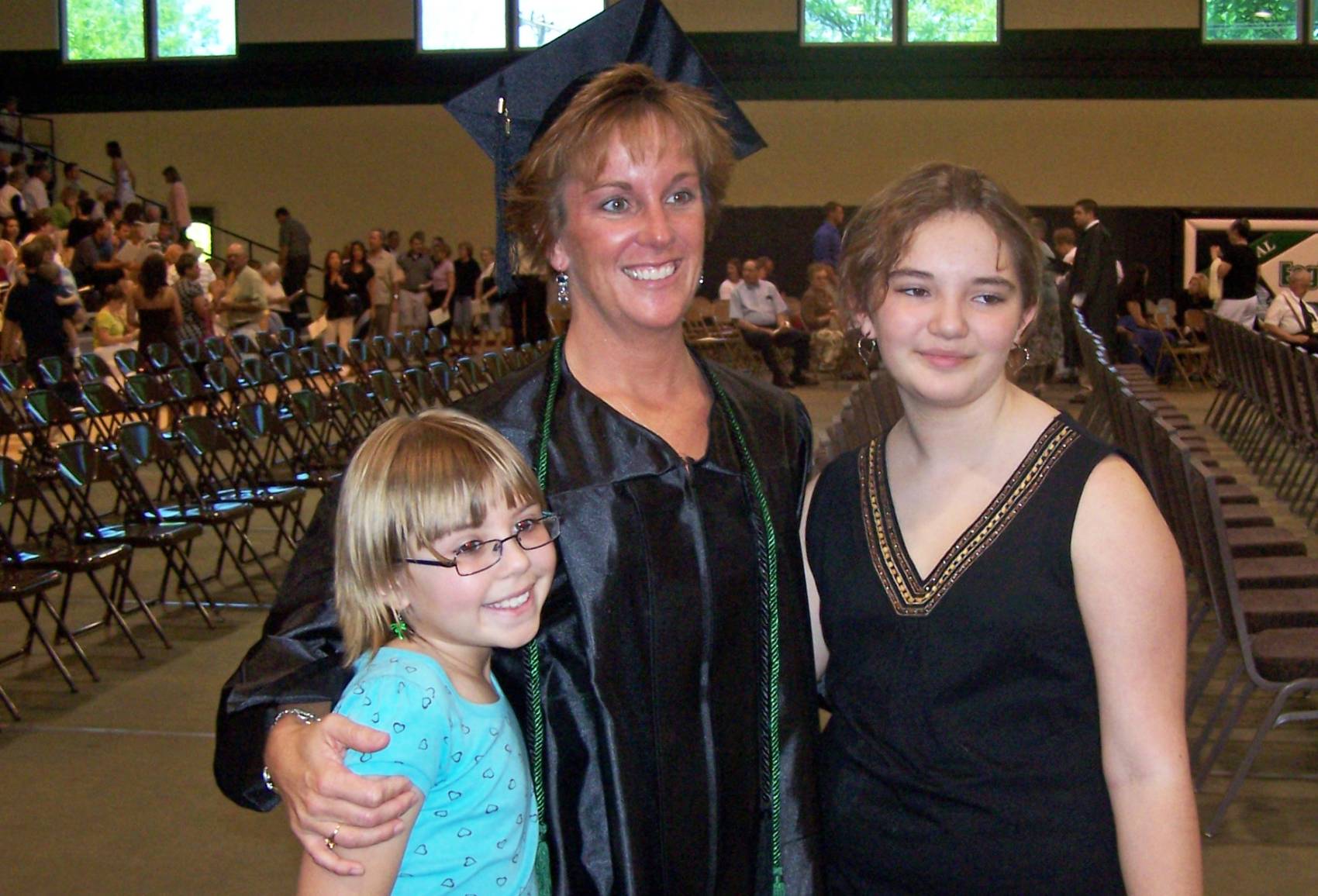 There are many reasons why attending college and pursuing a degree can seem daunting – especially after a few years go by, and one's focuses begin to surround marriage, family, and making sure there's always a paycheck coming in.
But Central Methodist University makes it possible to become more, as Kris Stodgel can attest. It's not as inconceivable as most think, and there are plenty of success stories like hers that prove this very fact.
Stodgel, financial aid advisor in CMU's Office of Financial Aid, is the lead character in one of these great stories. At 39-years-old, she earned a bachelor's degree through CMU while overcoming some of life's toughest obstacles.
A Kickapoo, Ill. native, Stodgel married her high school sweetheart, Andy, who was in the United States Army. Shortly after their wedding, he was sent to Iraq for Operation Desert Storm – giving the couple their first taste of separation. He completed four years with the Army, and then served 16 years with the Illinois National Guard.
While in Illinois, Stodgel received her associate degree from Illinois Central College, working several jobs on the side. After having children, she found the workload to be too demanding, so she decided to take a part-time job as a kindergarten aide. 
Early in 2002, Stodgel's husband was transferred to Boonville for work. She then found a job as a paraprofessional with the special education teacher at Fayette R-III. It was during this time that she decided she wanted more, and made the choice to pursue a bachelor's degree.
She began exploring options – first looking into the University of Missouri, and then Columbia College. 
"MU was way too big of a campus," Stodgel said. "And, although I had about 90 credit hours, very few would transfer, and they told me it would take me five years to obtain my degree." 
She received similar feedback from Columbia College, again being told very few of her earned credits would transfer, and it would take approximately five years for degree completion. 
"I visited CMU and in talking to Gale (Hap) Hairston, I found out that if I wanted to teach kindergarten, I would need an early childhood education degree – I had not been told this at MU or Columbia College," Stodgel said. "And the 
really

 
good news was that I could get my degree in three years, and many of my previous hours would transfer, so I could begin as a sophomore."
Through CMU, Stodgel said she received the guidance she needed to figure out her path, so at 36-years-old, she began a new adventure as an on-campus student.
Everything seemed to be lining up – until Stodgel learned her husband was going to be deployed to Afghanistan and would be gone for at least 15 months. 
"I was in the middle of my schooling, we had two children at home, all our family lived in Illinois – how could I stay at school while he was away?" she questioned.
It took hard work, determination, and willingness to accept help, but Stodgel stuck with it – realizing dreams of obtaining her degree were within reach, and she 
had

 
to make it work.
According to Stodgel, the support she received from CMU made all the difference. 
"The faculty here were great for me and they worked with me on my classes," she said. "If I had to leave early because of my children's schedules, or had to bring them to campus with me for some late afternoon classes, it was okay," Stodgel said.
During her experience as an on-campus student, Stodgel said she loved her classes and the personal interactions she had with her CMU instructors. "They knew us, and knew about us, and they wanted us to succeed," she said. "I really feel that if you put forth the effort, they will work with you on any given situation."
After graduating in 2007, Stodgel taught for several years in Pilot Grove and Prairie Home, but eventually felt called to find something new. This year, she was hired as the document coordinator in CMU's Office of Financial Aid, and recently transitioned into the position of College of Graduate and Extended Studies (CGES) financial aid advisor. 
Not only did Stodgel feel like she was coming home to CMU, but she was thrilled for the opportunities it provided her daughters, Madolyn and Kate, to attend Central. Madolyn is currently a sophomore biology major on campus and is part of the dance team. Kate is taking online classes, with plans to pursue a psychology degree.
The benefits of a Central education have come full circle for Stodgel, who thanked CMU for helping her find her path. She said her accomplishments derive from a "never give up" attitude, and a reliance on her faith. 
"God continues to get me through all I do," Stodgel said. "And it is so nice to be here on the CMU campus again."