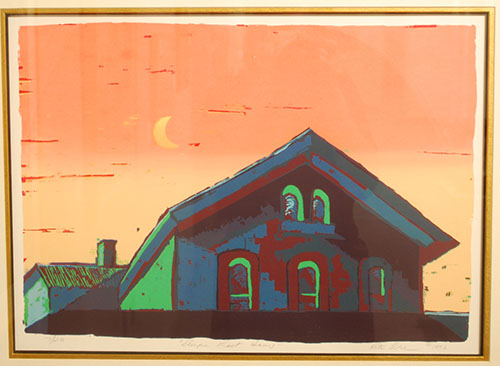 "Since the very first humans made art on cave walls, I am certain that all things aesthetic are elemental for the well-being of mankind," says artist Rita Orr, one of the artists in the current show at The Ashby-Hodge Gallery of American Art on the campus of Central Methodist University in Fayette.
The current show at is titled "The Art of Collecting." One room showcases the personal art collection of the late Bill and Martha Rogers Holman. The other two rooms present the art of collecting by The Ashby-Hodge Gallery itself. Subtitled "4x17," the rooms display four pieces of art by each of 17 artists from the permanent collection.
The Gallery is open on Sundays, Tuesdays, Wednesdays, and Thursdays until July 20 for this show. It will be closed on Tuesday, July 4. All people are welcome and there is no cost. The exhibition offers a peek into the lives of a plethora of artists.
Frank Stack lives in Columbia and is an art professor emeritus at the University of Missouri. He is an accomplished painter, printmaker, and graphic novelist. In fact, he is credited with inventing "underground comix," in 1962, the now-celebrated precursors to today's graphic novels.
Frederic James was born in Kansas City, Mo., in 1915, and studied to be an architect. He apparently was not passionate about architecture, although he was very good at it. He decided to be a painter instead, won several notable prizes, and ended up teaching art at the Kansas City Art Institute. He was a prolific and successful painter, especially fond of rural Missouri and Kansas. He died in 1985.
Nora Othic, who resides in Brookfield, Mo., calls herself a Neo-Regionalist. She says, "The subject is never the subject; a painting of two houses is more about placing geometrical shapes next to organic ones, and a watercolor of a country road is actually an arrangement of values and colors." Her paintings reflect her lifestyle and focus on the ordinary aspects of life, exploring the relationship between humanity and how people interact with their environment.
Bob Byerley spent his childhood in the '40s in Kansas City, Mo. He learned piano early and his parents were supportive of his pursuit of music but not of art. After three years at the University of Missouri-Columbia in pre-med, he had to take a fine arts credit, so he signed up for basic art. He says when he walked into the art building, saw the paintings and smelled the turpentine, he knew he was home. His parents were speechless when he told them he was giving up medicine for art. He loved to paint still-lifes but eventually narrowed to children as the center of interest in his paintings, reflecting nostalgia and his own kind and gentle childhood.
Brian Mahieu describes his evolution as a painter. "I am a colorist and I have been painting en plein air since my return from living in Paris for a month in 1987," he says. "Seeing the French countryside, I was amazed at how much it looked like Missouri. At that time, I decided that back home I could paint motifs similar to those captured by the Impressionists, and upon returning to the States, I took the Missouri River Valley as my motif.
"I want my art to be transparent, primal, and tactile, and above all, honest to my experiences," he adds. "I want it to reach out and elicit a visceral experience in the viewer."
Roger Medearis and Jackson Lee Nesbitt both attended the Kansas City Art Institute and both studied under the leadership of Thomas Hart Benton, as can be seen in many of their paintings. Both men were successful until the late 1940s when Regionalism fell out of favor. Medearis stopped painting entirely until 1966 when an art dealer discovered his work and encouraged him to start again. He painted until his death in 2001. Nesbitt gave up his career for good and settled for a successful career in the advertising industry in order to support his family.
Even closer to home, Monte Crews was born in Fayette in 1888 and graduated high school in 1905. He attended the University of Missouri-Columbia for nearly a year then moved to Chicago to study at the Art Institute of Chicago, moving again to the Art Students League in New York City in 1908.
He returned to Fayette in 1910 to work as a salesman at his father's grocery store, but he began to freelance illustrations to magazines. After a stint running Fayette's first motion picture theatre, he bounced to Kansas City where he ended up drawing newspaper advertising then teaching at the Kansas City Art Institute. He continued to sell illustrations to magazines like Colliers and The Saturday Evening Post and to pulp magazines. He was hired to teach at the Pratt Institute in Brooklyn in 1938, but died suddenly at the age of 58 in 1946.
Ellery Johnson graduated from Central College (now CMU) in 1956 and went on to get his MFA. He gathered credits from a number of institutions and taught art--art history, drawing, painting, printmaking, ceramics, and sculpture--in the Hazelwood School District in St. Louis for 31 years. He also has won awards for his medal design, watercolor, and pottery, and has multiple historical, sculptural dioramas in Arizona and Texas.
The full list of artists whose work is shown in the "4x17" exhibition includes Frederic James, Luigi Lucioni, Robert Byerley, Brian Mahieu, Roger Medearis, Frank Stack, Monte Crews, Jackson Lee Nesbitt, Mirger Sandzen, Penny Brown, Frank Steinman, Nora Othic, Rita Orr, J.R. Hamil, Grant Wood, Chuck McFall, and Ellery Johnson.
For more information or to arrange a tour, contact Curator Denise Haskamp at dhaskamp@centralmethodist.edu or Registrar Dr. Joe Geist at jegeist@centralmethodist.edu, or call 660-248-6304.