For more than 430 Central Methodist University students, Saturday, May 13, marked both the end of their degree program, and the start of better things to come.
CMU held its on-campus Commencement and Baccalaureate ceremonies in Fayette, though the University has four more Commencement celebrations in other locations in the coming weeks and months.
A capacity crowd packed into CMU's E.P. Puckett Field House to recognize 42 master's degree recipients, 392 bachelor's degree recipients, and three associate's degree recipients, according to CMU President Roger Drake.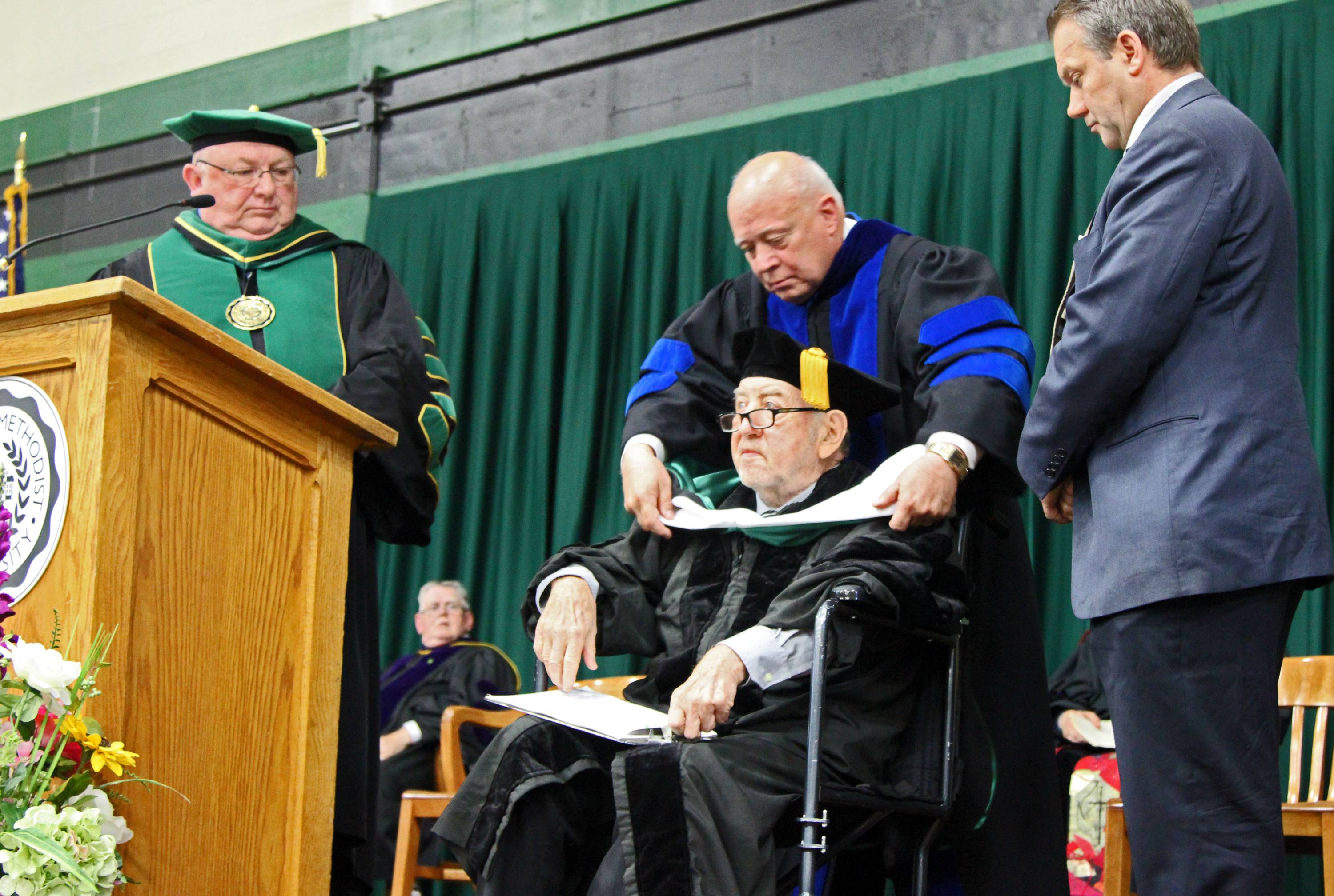 Braxton Rethwisch, a 1964 Central graduate and Fayette native who last fall retired after 52 years as the longest-serving employee in CMU history, delivered the Commencement address entitled "What do you think?" Just before he took the stage, he was surprised by President Drake and CMU Board of Trustee Chair T
ad Perry (Class of 1965) with the presentation of an Honorary Doctor of Humane Letters degree.
The annual John F. Kincaid Award was presented to Cynthia "Cindy" Dudenhofer, Director of Information Resources in CMU's Smiley Memorial Library and an associate professor. Established in 1985 by the late Dr. John F. Kincaid (Central Class of 1934), the Kincaid Award recognizes outstanding achievement in the education and inspiration of CMU students. 
Three graduating seniors were announced as winners of the highest student honors CMU bestows. Jennifer Long, a biology major from Cave Creek, Ariz., received the Selecman Award. Jamie Gisburne, a communication and computer science double major from Fort Myers, Fla., was presented the 
Human Relations Award. Parker Johnson, a computer science major from Richmond, Mo. received the Victoria Award.
Earlier on Saturday CMU held its annual Baccalaureate ceremony in the Paul H. Linn Memorial United Methodist Church on campus. The Rev. Dr. Clayton Smith, a 1970 Central alumnus originally from Chillicothe, delivered the message entitled "Loyal Hearts and Spirits Brave." A resident of Stilwell, Kan., Smith is Executive Pastor of Generosity at The United Methodist Church of the Resurrection, with four church campuses in the Kansas City area.