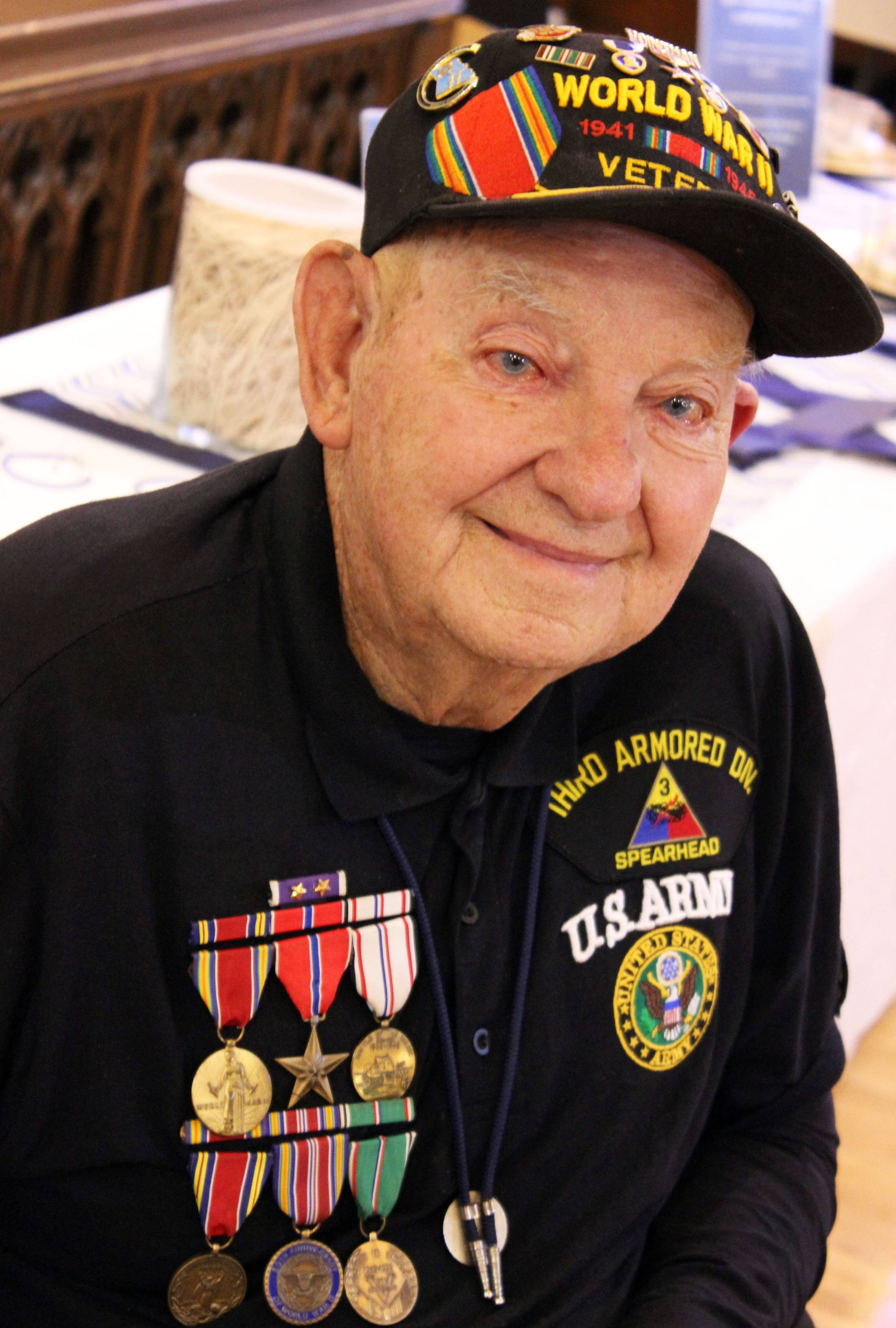 "It's hard to talk about," he said, as tears filled his eyes. "I'm okay, though. I'll be okay in just a minute." 

The 93-year-old World War II veteran steadily gripped his inner strength – the same strength that perhaps carried him through all he witnessed while at war, and everything he could never, ever forget. 

Harry Reed of Glasgow, an Eldon native, surprised many when he arrived at Central Methodist University's "Holocaust Remembrance Day" on Tuesday, April 25. The event was held to honor those affected by the Holocaust, and featured displays, speakers, and musical performances.

Event organizers quickly set up a display table for Reed. Guests lined up to shake his hand, and look at photos and documentation of his time in war. They thanked him for his service, and intently listened as he shared memories of liberating slave laborers at Nordhausen – a German concentration camp that claimed thousands of innocent lives during the Holocaust. 

Reed was in the Army's "Spearhead," Third Armored Division, 83rd Armored Reconnaissance Battalion. In 1945, when his group came upon the Nordhausen camp, they had no idea what to expect. Reed said he approached with his general, and several other generals, all who couldn't believe what their eyes were seeing. 
"There were 3,000 dead bodies just laying there, and I was one of the first ones there to see it," Reed said. "They were the slave laborers who worked there. They'd get three ounces of bread and a little cup of soup a day. They all starved to death."

"How do I know? Because that happens to be me right there," he said, as he pointed to a photo of the tragic scene, in which he is visible walking near the piles of dead, decaying bodies. 

"It gets to you," he continued, as he recalled the experience. "You couldn't imagine what the smell was." 

Reed said he remembered seeing the faces of those still barely alive, who were all being held behind a fence. 

"We were told not to feed them. They had been starving for so long, that if we fed them right then, we'd kill them," he said.

But according to Reed, approximately half of those still living – those they tried to save – died anyway, for it was far too late.

The veteran recalled him and his fellow soldiers noticing thick, black smoke nearby. 

"About five to 10 miles north of there, at camp Dora, we saw this big smoke coming up. We thought maybe there were airplanes bombing up there," he said. "But we went up and saw big furnaces – they were burning all of them. They'd bring 'em in truckloads, trainloads, everything, and just set them on fire. That was the black smoke." 

His infantry did all they could to transport the ill and starving slave laborers to nearby hospital facilities, but many did not survive the days after the liberation. 

The memories, so vivid in his 93-year-old mind, were branded there when he was only 19-years-old. "It's still really hard for me, and I try not to think about it," he said. "But it's something you can never really forget."

Reed was born and raised in Eldon, where he still has a home. He owned Midway Auto Parts there for roughly 40 years. He currently resides in Glasgow, where he moved seven years ago when he purchased the town's former motel.