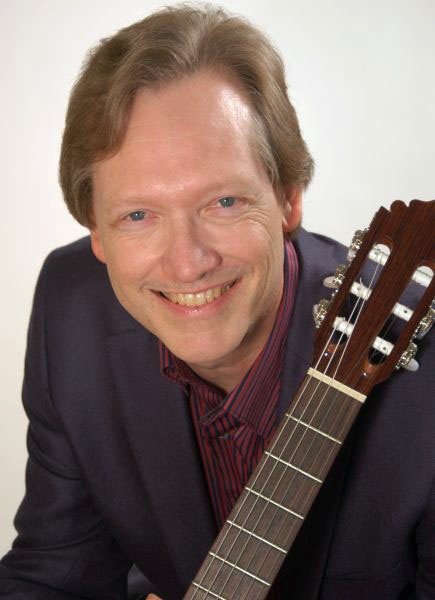 Nationally acclaimed guitarist Douglas Niedt will present a concert at Central Methodist University on Wednesday, April 12, at 7:30 p.m. in the Kountz Recital Hall of Swinney Conservatory of Music on the Fayette campus.
Sponsored by CMU Cultural Affairs and the CMU Student Government Association, the concert will be free and all are welcomed to attend.
The program is a tribute to one of Niedt's teachers, Jorge Morel. It will include "El Humahuaqueño" by Zaldivar; "Juguenteando" by Morel; "Lamento Borincano" by Hernández; "Misionera" by Bustamente;
"Spanish Dance No. 5" by Granados; "Recuerdos de la Alhambra" by Tárrega; "Leyenda" by Albéniz; "Chôros No. 1 (Chôro típico brasileiro)" by Villa-Lobos; "Carioca" by Youmans; "Chopi" by Escobar;
West Side Story
 medley ("I Feel Pretty," "Maria," "America") by Bernstein; "Lover" by Rodgers; "Dancers in Love" by Ellington; a series by Gershwin – "Rhapsody in Blue," "Summertime," "It Ain't Necessarily So," "Bess, You Is my Woman Now," and "Rhapsody in Blue" reprise;
"American Fantasy" by Morel; "Cavatina" by Myers; and the theme from "Peter Gunn" by Mancini. All music has been arranged by Morel or Niedt himself.
Niedt began studying guitar at age seven with his father, an amateur guitarist. He later polished his playing to gem-like brilliance through studies at the Juilliard School, the Segovia Master Classes in Spain, and with Christopher Parkening, Narciso Yepes, and Jorge Morel.
He made his New York debut at the age of 21 in Carnegie Recital Hall to high praise from the critics. He has published two major CDs, 
Pure Magic
, which received rave reviews, and a Christmas CD titled 
In Heavenly Peace
.
Niedt has also written a book titled 
How to Make a Million Dollars Playing the Guitar
, and has produced a series of teaching videos and scores titled 
Play It Like a Pro
 that offers in-depth instruction of select repertoire. He also has a performance video called 
Douglas Niedt – American Virtuoso
, all available on his 
website
.
Niedt presents master classes across the country and has taught at the Conservatory of Music and Dance at the University of Missouri, Kansas City, for 40 years. He is also a Fellow of the UMKC Bloch School of Management's Regnier Institute for Entrepreneurship and Innovation.