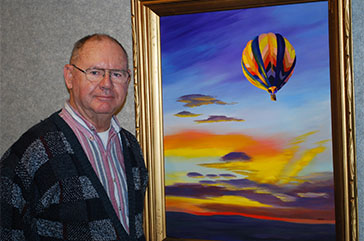 The new winter show at The Ashby-Hodge Gallery of American Art on the campus of Central Methodist University features three shows that will lift the winter spirits and bring on thoughts of spring.
"Three Winter Shows" begins with an opening reception on Sunday, Jan. 29 and runs through Thursday, April 6. The three galleries will welcome works by Columbia artist Bill Helvey, works from the permanent collection in honor of Black History Month, and a collection of paintings from the Robert and Anna Mae Hodge collection.
The Ashby-Hodge Gallery, in Classic Hall, is open Sundays plus Tuesdays through Thursdays from 1:30 – 4:30 p.m. and by special appointment. It will, however, be closed the week of CMU's Spring Break, March 18-26.
There is no charge and handicapped parking is available on the west side of the building. For more information, contact Curator Denise Haskamp or Dr. Joe Geist, registrar, at 660-248-6304.
The initial winter show begins with "Lifetime of Creativity: A Bill Helvey Retrospective." Helvey has been an artist most of his life. Born in 1942 and raised on a farm in southwest Missouri, there was little time for him to devote to the arts. But he relished the desire to create.
Ultimately, Helvey was able to pursue undergraduate and graduate degrees from Southwest Missouri State College (now MSU) and the University of Missouri – Columbia. Although his primary focus has been painting and drawing, he also has a keen interest in other art forms, including graphics, printmaking, jewelry, photography, and filmmaking.
He served professional positions at Central Methodist College (now University), University of Missouri – Columbia, Lincoln University, and Stephen's College with a varied career and a number of creative disciplines. From producing animation films to teaching life drawing, his 60+ years of producing art has been productive and prolific, resulting in thousands of works of art across a wide variety of genres and mediums.
The Ashby-Hodge exhibition is designed chronologically to reflect his artistic progression through time. It shows how Helvey moved through the years from realism to abstract expressionism, to impressionism, to pointillism, and back again to realism. The show includes works created with oil, watercolor, colored pencil, graphite, etching, and charcoal, plus a lithograph and an animation cell.
His work is diverse. Figurative work, landscapes, and machines comprise the majority of his art. Each picture in the exhibit represents a style of a series of studies of some phase of his work. Each phase represents a large number of art works produced over a period of years.
Helvey's work is collected by individuals, museums, and corporate clients around the world.